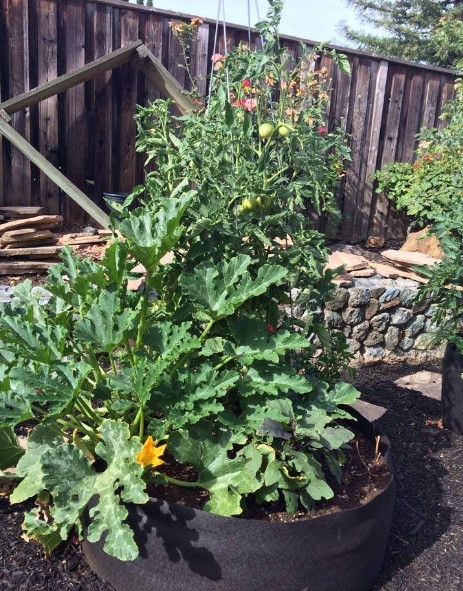 >
We've witnessed a changing mindset these past few years in gardening. What were random statements at first have evolved to show a shift in attitude about growing. Folks have been expressing the opinion that if they are going to water, they want to be able to eat what they grow.
For some their landscapes are changing. Portions or entire backyard lawn areas are being removed and replaced with raised beds for vegetables. Ornamental shrubs that were once planted across fence lines are being replanted with rows of blueberries. Where roses formerly stood, fruit trees are now installed. Some folks are looking at their yards from every angle, trying to make what they grow purposeful.
The challenge is how to get everything you want to grow in to your space.
Smart Pot Big Bag Beds, Planters and Pockets have been welcomed with open arms by growers. The entire Smart Pot line has offered growers an easy way get their garden growing. The material used in the construction of the Smart Pot allows plants to enjoy excellent drainage, encourage air-pruning (so plants don't become root bound), and lets the heat escape during hot weather.
Earth Boxes have been available for almost a decade now and they haven't lost their footing in popularity. The Earth Box holds its own water in a reservoir at the bottom of each planter which becomes available when needed by your installations. Earth Box planting is ideal considering our water issues, and plants love it. The Earth Box we have at the nursery has been in business for almost 6 years. It has hosted spring, summer and winter veggies. Tomatoes, squash, beans, lettuce, several herbs and even a melon has matured in the Earth Box.
This season, Ultra Dwarf fruit trees are finally becoming mainstream. Ultra Dwarf fruit trees produce regular sized fruit, yet they mature only anywhere from 3-5' tall and wide depending on the selection. Considering the mature growth, you can now maximize your fruit tree area, growing more selections without the fear of blocking much needed sunlight.
Almost all fruit trees varieties can be found as Ultra Dwarf selections, you can grow peach, cherry, apple, apricot, pear or nectarine. Look for quality Ultra Dwarf fruit trees. They should have sturdy branching and robust trunks. Take care when planting any type of fruit tree. Amend the soil well, using a premium soil conditioner. Use a starter fertilizer, or bone meal in the hole to stimulate root growth. Loosen soil around root ball of your desired fruit tree.
A happy fruit tree is one that is planted with its roots showing no memory of ever being in a nursery pot.
Blueberry plants have become widely popular, and have proven themselves to thrive in our local climate. Blueberry plants can grow rather large. Most selections can reach 4-5' tall and wide. They prefer full morning into the afternoon sun, not full hot sun. Each spring, amend the soil around your blueberries with dolomite lime to sweeten the soil. Plant several different varieties of blueberry. They need friends to cross-pollinate.
Now is the time to start your seeds for summer veggies. Start seeds indoors, of if you have one of those handy pop-up greenhouses, that would be perfect for seed starting outside. When planting seeds, be aware of the recommended planting depth listed on the seed package. If you plant your seeds too deep they won't get the light it needs to germinate.
Happy Gardening.
Nicole Hackett is the Garden Girl at R&M Pool, Patio and Gardens, located at 6780 Marsh Creek Road in Clayton, 925-672-0207.
Nicole writes for the Clayton Pioneer Newspaper, and Claycord.com. She is also the Clayton Valley Garden Club 2012 President.

>
{ 15 comments }