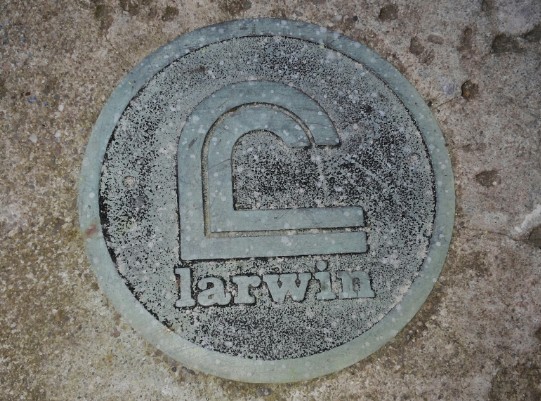 >
Many of you have probably traveled on N. Larwin Dr. or S. Larwin Dr. in Concord. The streets, which surround the Crossings neighborhood near Cowell & Ygnacio, didn't get named after some local historical figure, they were named after the developers who built the homes back in the 1970s.
Founded in 1948 by developer Larry Weinstein, the Larwin company is based in Southern California, and has built over 20,000 homes in our state. If you check out Google Maps, you will find many streets with the name "Larwin" throughout California.
Many residents in the Crossings neighborhood have the "Larwin" logo (pictured above) embedded into the concrete in front of their homes.
Thanks to Tom for the picture!
ABOUT THE CLAYCORD ONLINE MUSEUM: The Claycord Online Museum is made up of historical photos, documents & anything else that has to do with the history of our area.
If you have any old photos or items that you'd like to place in the Claycord Online Museum, just scan or take a photo of them, and send them to the following address: news@claycord.com. It doesn't matter what it is, even if it's just an old photo of your house, a scan of an old advertisement or an artifact that you'd like us to see, send it in and we'll put it online!
Click on the tag below titled "Claycord Online Museum" to view other items!