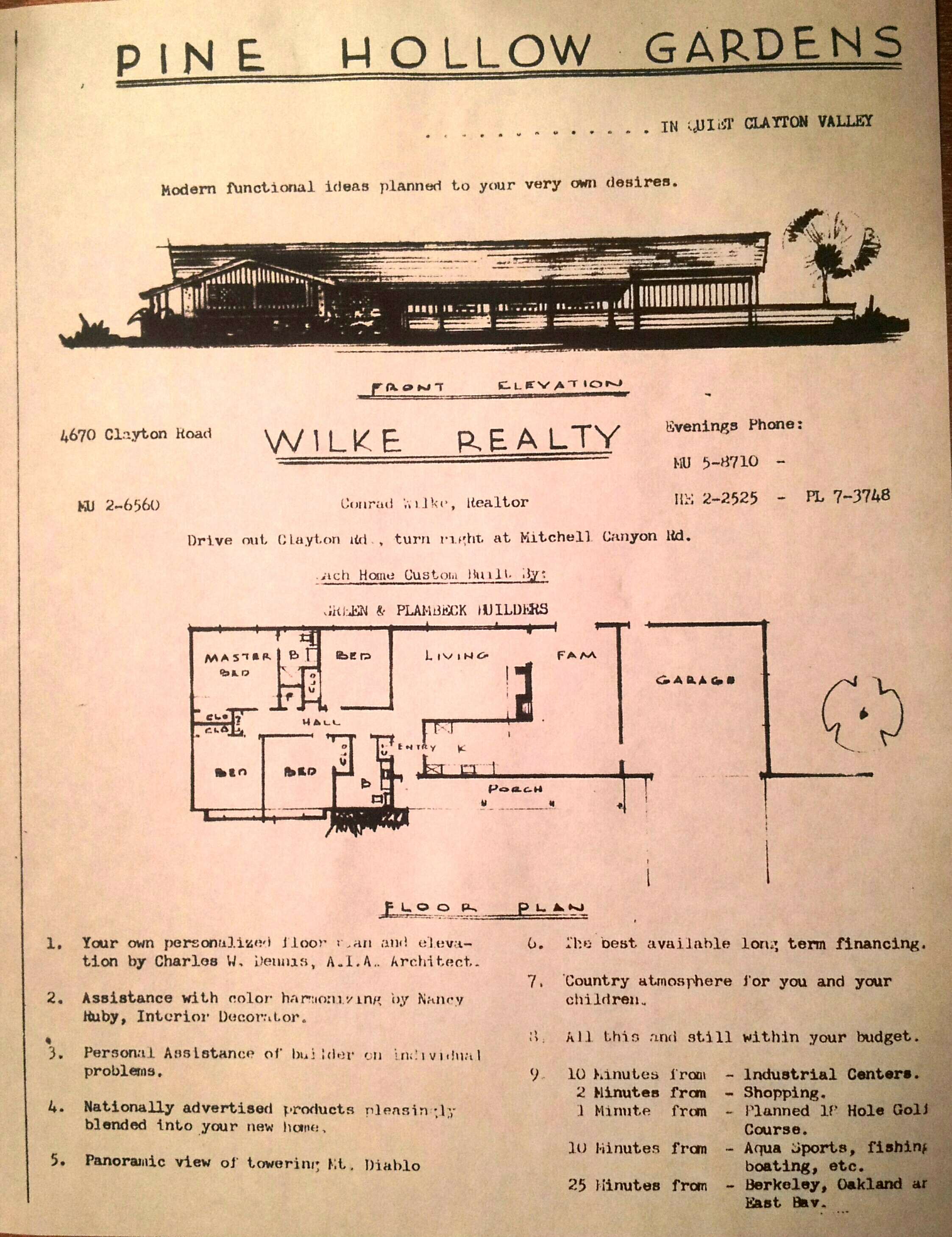 >
This old advertisement is for the Pine Hollow Gardens subdivision in Clayton.
Carol sent us this flyer, along with the following information….
Attached is the original 1957 real estate flyer for the Pine Hollow Garden subdivision located at Mitchell Canyon and Pine Hollow Road in Clayton.
The homes were constructed by Green and Plambeck. I could be wrong, but I believe this may have been the first subdivision built in Clayton. The flyer was published in 1957 as the construction was started and passed out to visitors at the model home which was located on Mitchell Canyon Road (later moved to Panadero Way). As far as I know, this was the only advertising material distributed for the subdivision.
[The homes in this subdivision were built on the right side of Mitchell Canyon Rd from Pine Hollow to Del Trigo Lane, and on Panadero Way and Panadero Court. From Del Trigo, the subdivision extended from Mitchell Canyon to include the two houses on either side of the street at Panadero Way. The Eichler home facing Pine Hollow was not part of the Pine Hollow Gardens subdivision nor was the large two-story home at the corner of Pine Hollow and Mitchell Canyon.]
Thanks to Carol for this great piece of Claycord history.
ABOUT THE CLAYCORD ONLINE MUSEUM: The Claycord Online Museum is made up of historical photos, documents & anything else that has to do with the history of our area.
If you have any old photos or items that you'd like to place in the Claycord Online Museum, just scan or take a photo of them, and send them to the following address: news@claycord.com. It doesn't matter what it is, even if it's just an old photo of your house, a scan of an old advertisement or an artifact that you'd like us to see, send it in and we'll put it online!
Click on the tag below titled "Claycord Online Museum" to view other items!
NOTE: Click on the flyer above for a larger view!