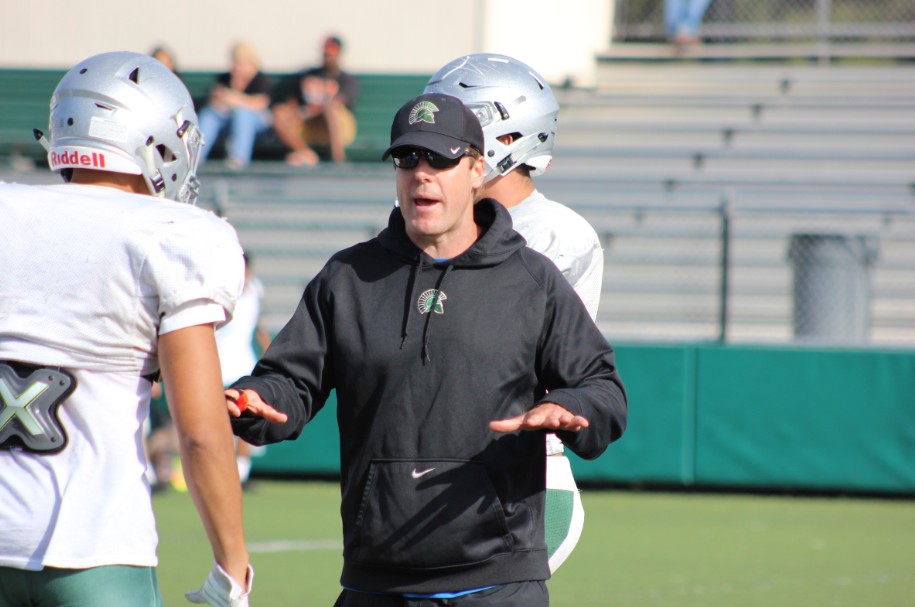 >
By Chace Bryson
It's Friday evening and Justin Alumbaugh is driving home.
The De La Salle High football coach is driving home after a win. As the coach of the fabled Spartans program, driving home after wins on a Friday are commonplace.
But this was a Friday in February. And the win wasn't a win for De La Salle football. It was a win for nearly every athlete on campus. A win for every Spartan opponent. It was a win for kids across the state.
"I'm tired, man," Alumbaugh said. "I'll say that for real. I don't think I've ever been this tired, and legitimately before a season has even started."
That was the win on this Friday. Alumbaugh got to share with his players that their season will indeed have a start.
The Spartans coach was one of three football coaches, along with Serra-San Mateo's Patrick Walsh and Torrey Pines-San Diego's Ron Gladnick, who acted as primary lobbyists in an extremely coordinated effort to convince Governor Gavin Newsom and state health officials to relax guidelines pertaining to the safe return to sports amidst the coronavirus pandemic.
The three coaches represented the Golden State Football Coaches Community, and they worked in partnership with the parent-led advocacy group of Let Them Play California. After multiple meetings with state officials, and multiple press conferences, the coaches reported progress and a promise from the governor's office that updates would be coming.
The clock kept ticking. Finally the coaches were told to expect something by Friday, February 19. And a statewide community of youth athletes and coaches held their breath.
"I was in the middle of giving a test on the Great Depression," Alumbaugh says with a laugh of acknowledgement toward the irony. Student-athletes' mental health was a major talking point the coaches leaned on when meeting with government officials.
"I was speaking at the front of the class when students began telling me that my phone was going off like a machine gun," he said.
The new guidelines, which were released at approximately 10 a.m., allowed for several outdoor sports to resume in counties with a COVID-19 adjusted case rate equal to or less than 14 per 100,000. The guidelines go into effect on Feb. 26, and pave the way for competition in football, baseball, softball, water polo, soccer, rugby and lacrosse. Close contact outdoor sports like football and water polo will require weekly testing until the case rate number drops below 7.
As soon as his class ended, Alumbaugh relished his moment to share the news with his players.
"I ran out in the quad and told the couple of guys I saw," the coach said, adding that a few even teared up. "There are zero times in my life that I was privy to information that was going to bring that much joy."
Seven of the nine Bay Area counties were already below the case rate threshold of 14 as of the announcement. Solano and Contra Costa County were not, though they were very close and trending in the positive direction. The number that will matter for Alumbaugh and the Spartans will be the one released Tuesday, Feb. 23. If it's 14 or less, then they could be just three weeks away from their first game.
How many games the season lasts remains somewhat uncertain. When the state's stay-at-home order ended in late January, the North Coast Section reworked its calendar and set a football end date of April 17. If the section chooses to stick to that, six games would likely be a best-case scenario. If it chooses to extend to May 1 — something the Central Coast Section has already allowed for — than eight games are a possibility.
Alumbaugh isn't shy about acknowledging that there are still things that need to be figured out. That could be a Monday concern.
On Friday, it was about celebrating that any of that was even a concern to begin with.
"Our kids get to play," he said. "I think at this point, who cares whether it's 5-6-7 games. That's 5-6-7 more than we ever thought we'd have. Whatever it is, that's fine.
"The section has a lot of juggling to do. Whatever decision they make we're going to follow and move forward. The biggest thing is we get to move forward."
The truncated De La Salle schedule is likely to be strictly local. The new guidelines included the stipulation that competitions be kept to schools within the same county or bordering ones only. Taking that into account, a likely seven game schedule could feature five East Bay Athletic League opponents (Clayton Valley-Concord, San Ramon Valley-Danville, Monte Vista-Danville, California-San Ramon and perhaps one other), plus non-league games against Pittsburg and possibly St. Mary's-Stockton.
But again, those details are for another day.
Alumbaugh pulled into his driveway and was ready to revel, and rest. He mentioned being up and on the phone until almost 1:45 a.m. the night before.
"(Today's announcement) was pretty much the best case scenario with everything we'd been talking about in the meetings," he said. "Governor Newsom and Jim DeBoo deserve a lot of credit. They listened to three high school football coaches. They listened, and they didn't give us lip service.
"I think that's pretty awesome. I really do."
Indoor sports such as basketball, wrestling and girls volleyball had reason to be less enthusiastic about the announcement. Those sports are still tied to the state's lowest tiers and infection rate numbers.
Alumabugh, whose niece plays indoor volleyball, understands the angst from those communities but thinks those sports can still look at Friday's progress as a win.
"If you look at what the state did today, it made sense," he said. "There had to be an initial step, and today's announcement doesn't close the door on indoor sports. Throughout the process, (state officials) said they were going to listen to everything — and they listened to us.
"Today proved that. Whatever comes down the way, everyone is going to be happy."
For more features on local sports, and a newly launched podcast, be sure to visit SportStars Magazine and follow them on Facebook, Twitter and Instagram.
photo credit: Chace Bryson