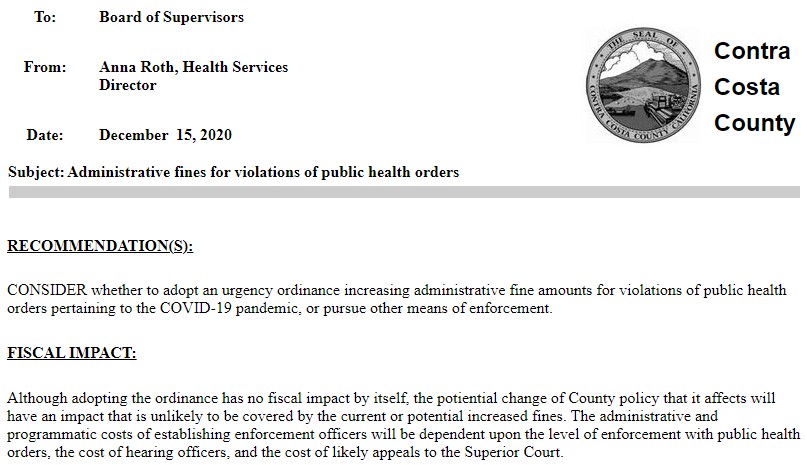 >
Fines for businesses who violate Contra Costa County's COVID-19 health order could increase by thousands of dollars as soon as tomorrow (Tuesday) if one county Board of Supervisor member gets her way.
Recently, Board of Supervisors members, including Karen Mitchoff, expressed interest in increasing the maximum amount of fines that can be levied for health order violations. Mitchoff proposed fines of anywhere between $10,000 – $20,000, saying "it's time to bring the hammer down."
Mitchoff then asked for the item to be added to Tuesday's Board of Supervisors agenda.
During the meeting, the Board may wish to either consider increasing fines, or leave the existing ordinance and existing fine amounts in place and consider alternative methods of enforcement.
Contra Costa District Attorney Diana Becton, Assistant Sheriff John Lowden, and Environmental Health Director Randy Sawyer will also be discussing enforcement of the public health order.
The meeting, which starts at 9:30 a.m. on Tuesday Dec.15, is televised live on Comcast Cable 27, ATT/U-Verse Channel 99, and WAVE Channel 32, and can be seen live online at www.contracostatv.org.
Anyone who wishes to make a public comment during the public comment period of the meeting can call-in by dialing 888-251-2949, followed by the access code 1672589#. To indicate you wish to speak on an agenda item, please push "#2" on your phone.
RELATED LINKS:
OTHER USEFUL INFORMATION:
Board of Supervisors Contact Information: