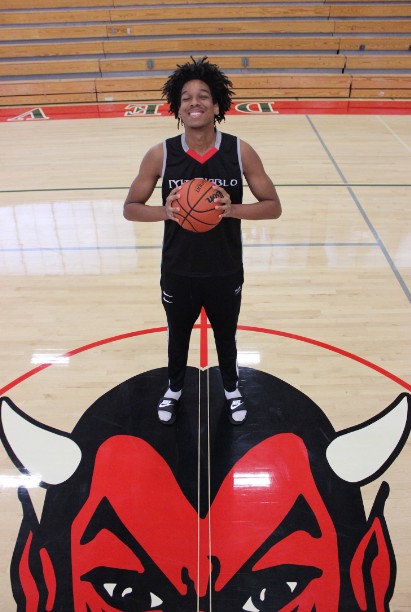 >
Story by Mike Wood | Photo by Chace Bryson
Something big is brewing in the basketball gym at Mt. Diablo High School in Concord.
Big comes in the form of 7-foot-1 Mezziah Oakman, eagerly awaiting his senior season after transferring a year ago from the East Coast. There's also an inspirational facet, provided by a hearty band of seniors who honed grit and determination during a winless freshman season.
Optimism and lofty goals suddenly abound at Mt. Diablo, one of the oldest high schools in the East Bay, with a treasure trove of sports history since opening in 1901. But recent years have been tough. Constant coaching turnover and promising athletes transferring away have both contributed to a perpetual struggle to stay out of the loss column.
"Everybody's spirits are pretty high; they can't wait," fourth-year coach Ejon Felder said. "They are hoping this is going to be one of the best years in the history of Mt. Diablo. If they can think they can do it, and do it, they're going to be in some good company at a school that has had a lot of history."
Oakman transferred in for his junior season, and was cleared to play after the Red Devils had logged 10 games, helping inspire a spirited run and a burst of confidence. Paired with the hard-working senior trio of shooting guard Devin Foo, combo guard Shawn Gutierrez and wing Jeramyah Johnson-Hodrick, the Red Devils have high hopes for whatever materializes with the coming season.
"I take pride in trying to build what we have now," Foo said. "Hopefully we'll have a breakout season this year. We've worked really hard to build what we have and this family that we have. I'm very confident that we're going to do something big this year."
Oakman's debut for Mt. Diablo wasn't dazzling, as he was lacking proper size-16 footwear.
"I was still in the process of getting my stuff mailed to me, and so I played in my Jordans and I was slipping and sliding all over the court," Oakman recalled with a chuckle.
"He had these shoes and they were sliding all over the floor … the bottoms were rubbed out," Felder said. "We wear nearly the same shoe size, so I let him wear some of the shoes I'd just bought. 'Take 'em, you need 'em in the game.'"
His presence soon became no laughing matter for opponents.
The Red Devils went 5-5 in Diablo Athletic League-Valley games, including an 83-49 win over Concord that was the program's first defeat of its crosstown rival in 15 years. The win began a rare three-game win streak as they finished 9-17 for a second straight season.
That's uplifting for a program that hasn't had a winning season since 2004-05. In fact they have gone winless three times in that span, including Felder's first season of 2017-18. The program was a combined 23-168 in the eight seasons prior to Felder's arrival.
All considered, last season was a promising finish after Mt. Diablo lost 11 of its first 12 games due to a slew of injuries and the wait to get Oakman on the court.
"Last year was bizarre, because we had won those nine games (the year before), and I am thinking we are going to double that," Felder said. "We had three starters hurt for half the year. (Oakman) didn't get here until game 11 or 12. By the time we got to midseason, everybody started coming back and we made a real push at the end. We came in third in league but I think had everybody been healthy going into that, we probably could have got first or second."
Oakman is introspective in his manner, befitting someone interested in psychology as he nears college.
"I really like psychology, dealing with the mind and understanding what other people think," he said.
On the court he has substantial talent and is working to develop into an impactful 21st-century big man who can shoot from the perimeter.
"Sometimes something falls into your lap a bit," Felder said of getting a 7-footer to work with. "He still has a lot of work, still working on the mental and physical parts of the game."
Felder is teaching him old-school history, showing him videos of Wilt Chamberlain and Kareem Abdul-Jabbar. What sticks out to Oakman about these innovative big men?
"It's really about manpower, outplaying everyone, dominating at all levels," he said. "They were really unstoppable for that era," marveling at Chamberlain's 100-point game in 1962.
History is a theme for Felder. The Red Devils have also learned from one of Mt. Diablo's most successful athletic alums, Todd Lichti, who set the school career scoring record while at Stanford. Lichti visited last year from Australia and was exceedingly generous in spending time with the team, Felder said.
Oakman would like to make it to the NBA. His role model is a more modern one, Anthony Davis of the NBA champion Los Angeles Lakers.
"He can shoot outside the key, that style he plays," Oakman said. "He's the perfect big man."
To reach the biggest level, Oakman has one major inspiration and goal: "To provide for my loved ones, that's the most important thing."
He has a great deal of mobility for a big man.
"He's very good on his feet, and he's a natural shot blocker," Felder said. "He has a real nose for the ball, and shoots great from distance now."
Oakman immediately felt comfortable with the Bay Area atmosphere, much preferring California's climate to snowy winters he experienced in places like Queens, New York.
"He's a very astute kid, and since he's come to the West Coast and focused on his game and homework, he's getting A's and B's," Felder said. "He's never had that platform before he came out here."
"I've grown a lot since I moved out here," Oakman said. "My whole mindset changed, on everything."
Felder beams with pride that his group has maintained a team GPA of 3.3-3.4 over the years.
"They are maintaining their scholastic duties while they are playing, and that has been huge for us. They are not going to let each other fail."
This is an excerpt to SportStars Magazine's December cover story. The full article will be available at SportStarsMag.com beginning Monday, Nov. 23.