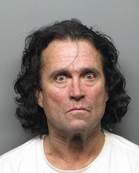 >
A homeless man, identified as Earl Romiti, was arrested in the 1900 block of Tice Valley Blvd. after authorities found a few illegal items inside his encampment, according to the Walnut Creek Police Dept.
When the officers announced they were on scene, Romiti quickly hid an unknown item between his legs, according to police.
The officers conducted a search and police say they located a handgun, a bullet, and drug paraphernalia.
Romiti was arrested for a felon in possession of a firearm, a felon in possession of ammunition, illegal lodging, and possession of drug paraphernalia.
He was transported to the county jail in Martinez.