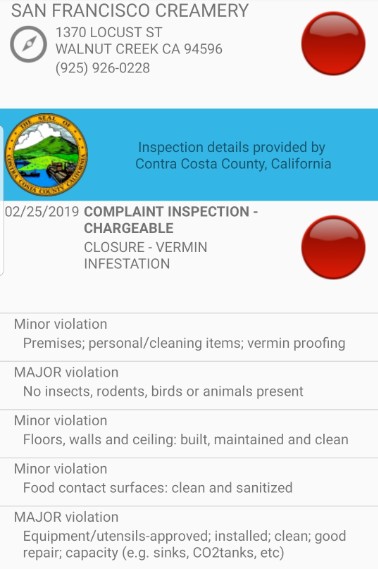 >
The San Francisco Creamery, located at 1370 Locust St. in Walnut Creek, was closed this week after inspectors from the Contra Costa County Department of Environmental Health say they found the following:
7+ live cockroaches on the gasket to the 1 door refrigerator at the cook line. Gasket also contained cockroach fecal matter.
1 live cockroach on top of the soybean oil stored next to the food preparation sink.
1 live cockroach between the wall and shelf above the draining board of the ware washing sink. Cockroach fecal matter on the wall in the same area as the live cockroach.
1 live cockroach inside the cockroach egg case. Cockroach egg case is on the handle of the hotel pan on the storage rack in the back kitchen.
3 dead cockroaches on the gasket to the walk-in freezer. Cockroach fecal matter also present on the gasket.
1 dead cockroach on the floor next to water heater.
1 dead cockroach on top of the soap dispenser above the mop sink.
2 dead cockroaches on the monitoring trap inside the cabinet. Cabinet where soda machine is stored.
1 dead cockroach next to the freezer where the ice cream cake is stored.
The health department inspected the restaurant after a complaint came in from a customer saying they were served a raw hamburger, and not rare. They claim a cockroach jumped out of the bill folder and ran across the table. They told the health department an employee scooped it up and dropped the live cockroach in the garbage can where ice cream is prepared and the employee went back to making ice cream.
The health department spoke with person in charge about the complaint. He stated they have not received any complaints about raw burgers but did have a customer let them know about the cockroaches in the restaurant about a month ago.
Pest control last serviced food facility on Feb.21, 2019.
To read the full inspection report for the San Francisco Creamery, click HERE.
Please click on the 'Dirty Dining' link to view all the most recent restaurant closures in Contra Costa County.