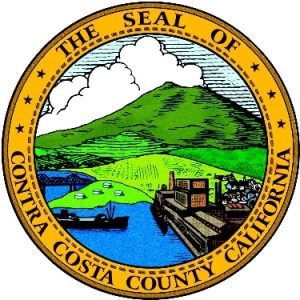 >
The Contra Costa County Board of Supervisors held its annual reorganizational meeting Tuesday morning in Martinez, appointing District 1 Supervisor John Gioia as board chair and District 2 Supervisor Candace Andersen as vice chair.
Both supervisors have served as board chair during past terms. Gioia was first elected to the board in 1998, while Andersen has served since 2012. Gioia will be succeeding outgoing chair Karen Mitchoff, who represents
Contra Costa County's District 4.
The board also confirmed appointments to roughly 100 seats on various regional boards and committees, most of which are unpaid positions that the supervisors will fill themselves.
That became a matter of some contention during public comment, when one speaker asked them to postpone the appointment of District 5 Supervisor Federal Glover to the Metropolitan Transportation Commission, which is responsible for transportation planning and finance, to find a member of the public to appoint.
"Every elected board in the San Francisco Bay Area that has appointing authority has selected an elected representative to that body," Gioia said in response.
Andersen pointed out that the board has the option to appoint members of the public, but Mitchoff explained that there was currently no political will on the Board of Supervisors to do so.
Mitchoff made a motion to approve the appointments, with Andersen seconding the motion, which passed unopposed. A full list of those appointments and any stipends available to the appointees has been posted online, courtesy of county staff, at https://bit.ly/2soPqY6.
The board adjourned shortly after that, heading over to Richmond's Craneway Pavilion for a reorganization luncheon.