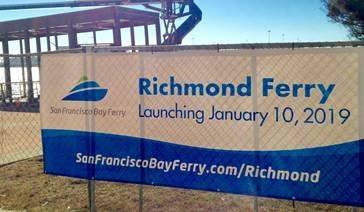 >
The City of Richmond and the Water Emergency Transportation Authority (WETA) invite you to celebrate the launch of San Francisco Bay Ferry service between Richmond and San Francisco on January 10 at 1:30 p.m. at The Craneway Pavilion, 1414 Harbour Way South, Richmond.
The event including the short rides are free and open to the public.
The official start of ferry service connecting Richmond to the Ferry Building in downtown San Francisco begins the same day at 6:10 a.m. on January 10.
The launch event later that day will celebrate the new service.
When will service begin? Service launches on January 10, 2019 at 6:10 a.m.
How much will it cost? The adult cash fare will be $9, while Clipper Card users will receive a discounted adult fare of $6.75. The disabled, youth (5-18 years) and senior (65+) rate is $4.50. Click here for fare details.
What will the ferry schedule be? See the Richmond schedule here. We are planning four runs from Richmond to San Francisco during morning commute hours and four runs from San Francisco to Richmond in the evening commute hours, with limited reverse commute service as well. Boats depart at the scheduled time. Boarding is first come, first served. Please arrive at the terminal and be ready to board at least five minutes prior to departure.
How long is the ride? Transit time between Richmond and San Francisco is approximately 35 minutes.
About our ferries San Francisco Bay Ferry carries 2.8 million customers a year on a fleet of 14 vessels (with more on the way). Learn more about the fleet.
What is riding the ferry like? If you've never commuted by ferry, you're in for a treat. All of our vessels offer comfortable seating, snack bars with beverage service, complimentary WiFi, restrooms, and are ADA accessible. Oh, there are also some pretty nice views. Questions about riding the ferry? Visit our FAQ/rider info page.
How do I get to the terminal? It's easy to access the terminal from Interstate 580 and the greater Richmond area by car or bicycle. (We're on the Bay Trail). Get directions here. AC Transit Line 74 operates between the Richmond Ferry Terminal to central Richmond, including the Richmond BART and Amtrak stations.
Where do I park? Free parking for ferry customers is available in the lot adjacent to the terminal and includes 362 spaces, with 15 public access spaces and eight accessible spaces. Please note that the lot is unattended. No overnight parking is permitted. Parking is first come, first served.
Can I bring my bike on the ferry? You are welcome to board the ferry with your bicycle. If you prefer to leave it at the Richmond terminal, there will be 20 secure BikeLink lockers as well as additional rack space.