>
Traffic Jammin' with Janis Mara – Every first and third Monday at 2 p.m. on Claycord.com.
TRAFFIC JAMMER: Greetings, all! This Claycord.com column is for everyone who negotiates the highways and public transit of the Bay Area. It runs every first and third Monday of the month at 2 pm and answers your commuting and transportation questions. Email your questions to trafficjammin@claycord.com.
COMMUTER: Friendly reminder to those who commute on Concord Boulevard in Concord. Sometimes there are TWO LANES, and they do MERGE at a point. Some drivers think people are "cutting" by using the merge lane and won't give them an inch. This happened to me – the man in the Audi was soooooo rude!
I put my hand out the window to signal that I was merging, I also had my blinker on for quite a while. He rolled down his window and cursed me! Said I was racing down the shoulder to cut in. I said no, it's a merge lane and people are supposed to take turns. He kept moving his car towards mine.
I finally said, "Go ahead #!@%!" and backed off so he could have his precious place in line! He then proceeded to go super-slow, about 28 mph holding up the line of cars behind him. Stop using 3,000 pounds of steel to bully people on the roads. It's not worth it!
–Anonymous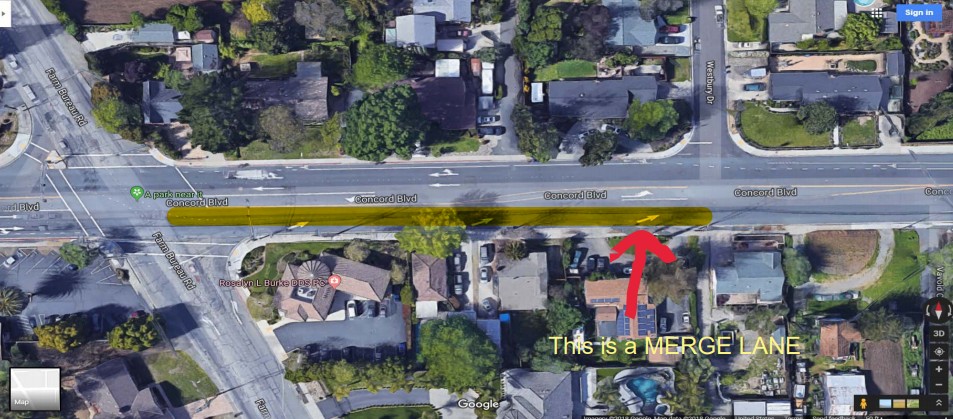 >
TRAFFIC JAMMER: Anonymous, I'm so sorry you had this awful experience. Readers, Anonymous also indicated that this happens to her all the time, which is even more concerning. As you can tell by the photo Anonymous sent along, this is indeed a legal merge lane marked with an arrow.
COMMUTER: Oh, Jammer!! Re: the smell of stank on someone's clothes – YES! it is very possible for the smell to be enough to trigger a reaction, just as it is enough for people to look askance at the smoker. You are lucky if you've never been subjected to this!
–Mimi (original)
TRAFFIC JAMMER: Awhile back, a reader asked whether it was disrespectful and offensive if someone smoked marijuana in front of a home or came over smelling like it. The Jammer mildly replied that smoking outside someone's house seemed offensive, just as drinking outside would be, but coming over smelling like it was relatively benign.
Beloved Claycordians disagreed. Almost all the commenters agreed with Mimi (original). And it looks like you are right and I was wrong. " Although the active ingredients of the cannabis plant differ from those of the tobacco plant, each produces about 4000 chemicals when smoked and these are largely identical," according to this study cited by the U.S. National Library of Medicine.
COMMUTER:  I read about a motorist who received a warning because her Fastrak device was not affixed to her front window. It seems to me that this contradicts motorists being cautioned not to leave valuables visible in their cars. Your thoughts?
–Janet
TRAFFIC JAMMER: Janet, I see your point, since a person who steals a Fastrak transponder could use it for free tolls. However, it's not like stealing a credit card, which a thief could rack up hundreds of dollars in purchases before the card gets canceled. And it's not like stealing an iPhone or a laptop; the transponder itself has no intrinsic value.
It's fine to keep the transponder elsewhere in the car and hold it up to be read. Not only that, Janet, readers have actually chastised the Jammer on more than one occasion for urging folks to use the transponder. They point out, correctly, that the system can read the license plate number and charge the car if you're registered, and they conclude that the transponder isn't needed.
COMMUTER: What about the carpool lane? Is it a passing lane?
–Maria
TRAFFIC JAMMER: The Jammer is reprinting this post in abbreviated form because in a recent column she neglected to address the first two sentences. Beloved Claycordian JohnS addressed it in the comments: "During 'commute hours', the HOV lanes are not 'the passing lane.'" True, and thanks, JohnS!
That's it for this week. Be sure to cruise by Claycord.com at 2pm on the first and third Mondays of the month for more traffic intelligence. Remember, whether you drive, walk, bike or hop Amtrak, BART, County Connection or AC Transit, Traffic Jammer Janis Mara is here to answer your questions.
Send your questions to trafficjammin@claycord.com.