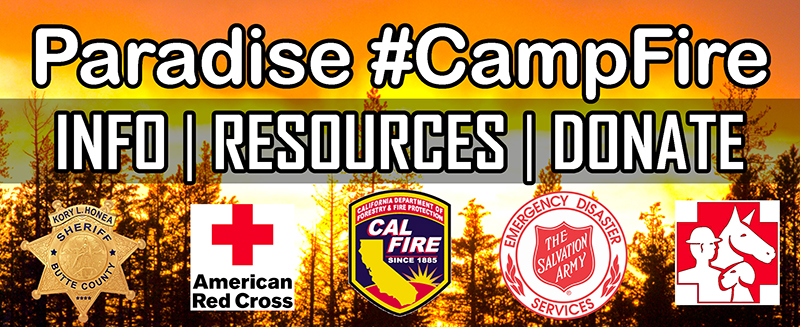 >
We've been getting many questions about what you can do to help the thousands of people who are suffering due to the "Camp Fire" in the Town of Paradise, just east of Chico.
Here's some information, courtesy of Newstalk 1290 KPAY in Chico.
Paradise Camp Fire Relief Information
CAMP FIRE | CAL FIRE INCIDENT PAGE
http://www.fire.ca.gov/current_incidents/incidentdetails/Index/2277
INTERACTIVE FIRE MAP [LINK] <<<
CAMP FIRE | AMERICAN RED CROSS – EVACUATION REGISTER
https://safeandwell.communityos.org/cms/index.php
EVACUATION NOTICES
Evacuation orders established for Paradise, Magalia, Concow, Butte Creek Canyon and Butte Valley.
Follow Butte County Sheriff's Office on Twitter for the latest evacuation information.
http://twitter.com/ButteSheriff
Public Information Line: 530-538-7826
CHICO FIRE DEPARTMENT
There are currently no evacuations in the City of Chico due to the Camp Fire. Officials will continue to monitor the situation and provide updates as information becomes available.
EVACUATION NOTICES
http://buttecounty.net/massnotification
CAMP FIRE | NORTH VALLEY ANIMAL DISASTER GROUP
Hotline (530) 895-0000 | https://www.nvadg.org/donate
CAMP FIRE | Evacuation Shelters
Oroville Nazarene Church– 2238 Monte Vista Aveue in Oroville.(update: now at full capacity)
Neighborhood Church– 2801 Notre Dame Blvd in Chico. (update: now at full capacity)
The East Evenue Church– 1185 East Avenue.. Another Chico Church has opened a shelter for those evacuting the Camp Fire.
The Butte County Fairgrounds– 199 E Hazel Street in Gridley is open as an evacuation center. The Butte County fairgrounds currently has a lot of room for Camp fire evacuees.
Azad's Martial Arts– 313 Walnut St. in Chico, is open as a Shelter for evacuees of the Camp Fire. Well behaved pets are welcome. Bathrooms, parking,and sleep space available.
The Woodson Bridge RV Park– 25433 South Ave, Corning, CA 96021 has spaces available for free with electrical hookups for RV's that are evacuating. For information on space availability call (530) 839-2151.
Country Pumpkins– 7152 Hwy 32, Orland for temporary RV parking for those under mandatory evacuation orders from the Camp Fire. We have room for up to 50 RV's. It's a 'dry' camp, no power, no water, and no RV hook ups. The price is right (free) if you're mindful that it's private property, and move to a suitable facility as soon as possible; we can handle guests for a few days if anyone needs a place to park and regroup, but aren't set up for extended stays. Phone Steve at 530-519-8377
Riffles RV Park– 4488 Pacific Heights Road, Oroville, to camp and stay as long as they need.
Glenn County Fairgrounds– 221 E. Yolo Street in Orland, now open for shelter of evacuees from Butte County #Campfire. Glenn County Health and Human Services staff will be operating the shelter. No assistance or resources needed at this time.
The Yuba-Sutter Fairgrounds- 442 Franklin Avenue, Yuba City is officially open as an Evacuation Center. Main Exhibit Building.
Chico Elks's Lodge– 1705 Manzanita Ave, Chico, CA 95926 Is an Evacuation center. (update: now at full capacity)
The Sikh Temple– 2468 Tierra Buena Road, Yuba City, is extending an invitation to evacuees from the Camp Fire to come to the temple for food and shelter. Temple President Sunny Singh says for more information please call the temple at 673-9918.
Chester Memorial Hall– 22 Gay Street, is now open for evacuees of the #campfire.
Airbnb is encouraging hosts in Northern California to list their space for free in order to help displaced evacuees from the #CampFire as well as those deployed to help.
Find more information here: https://www.airbnb.com/welcome/evacuees/buttecounty
The Butte County Sheriff's Office says that the Silver Dollar Fair Grounds is NOT open as a shelter.
CAMP FIRE | ANIMAL SHELTERS
Large animals can be taken to Butte County Fairgrounds in Gridley.
also the Camelot Equestrian Center on Clark Rd in Oroville (now evacuated)
Old County Hospital– Small Animals 2279 Del Oro in Oroville
A second small animal shelter is open at the Chico Airport.
Chico Animal Shelter If you have lost an animal in PARADISE, please make sure to check our website at www.chicoanimalshelter.org It's possible that your pet may have ended up here due to the fires.
The North Valley Animal Disaster Group Cannot rescue due to the Danger surrounding the fire.
CAMP FIRE | NORTH VALLEY COMMUNITY FOUNDATION – DONATE
https://www.nvcf.org/fund/camp-fire-evacuation-relief-fund/
Contact: Logan Todd | ltodd@nvcf.org | 530-366-0397
WHEN DONATING GOODS
Please understand that donated goods take a lot of manpower to organize and distribute. If you can provide exactly what Salvation Army needs and deliver to their location in Chico, that is the best route.
Unless there is a specific request, please do not just drop off items to shelters. Often unrequested items cannot be used and become a burden for the evacuation shelters.
Hope Center in Oroville (1950 Kitrick Ave Ste. A) is taking donations for #campfire. Hours: 8-5 Friday. Needs: warm clothes, shoes, socks, coats (primarily for elderly residents).
CHICO ELKS LODGE– We can use Bedding and Towels….paper for waste and wipe is in need right now. Pillow cases also. bedding and animal food bedding and animal food Bedding and animal food. Calling ALL Elks we are in desperate need of volunteers to help with our 200+ displaced guests from the fires. If you are able to come to the lodge and help please call the lodge at 343-1431.
TRAMA FROM FIRE/PSTD  | FREE ONLINE PROGRAM
https://www.mysonomastrong.com/pages/index/forme.html
CAMP FIRE | AMERICAN RED CROSS – DONATE
https://www.redcross.org/news/article/California-Wildfires-Red-Cross-Providing-Shelter-as-People-Flee-Their-Homes