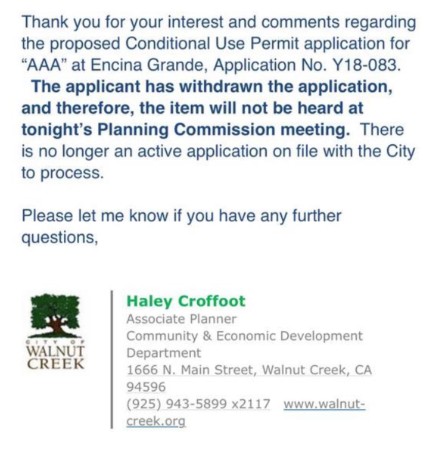 >
AAA has backed out of their plan to move into the Jade Garden and UPS buildings in the Encina Grande shopping center on Ygnacio Valley Rd. in Walnut Creek, according to an email from the City of Walnut Creek.
The Walnut Creek planning commission was set to discuss approving a use permit for AAA this evening, but they say AAA has withdrawn their application.
This news comes just one day after we first reported that Jade Garden, a Chinese restaurant that's been in the center since 1989, was told to leave by February of 2019 due to a restriction in the lease with Amazon-owned supermarket chain Whole Foods that limits the square-footage of restaurants in the center, according to the property manager, Recency Centers.
Sources also told Claycord.com that Evie's Hamburgers and Taco Bell have also been ordered to vacate the shopping center in 2019 due to the center's lease agreement with Whole Foods.
RELATED STORIES: