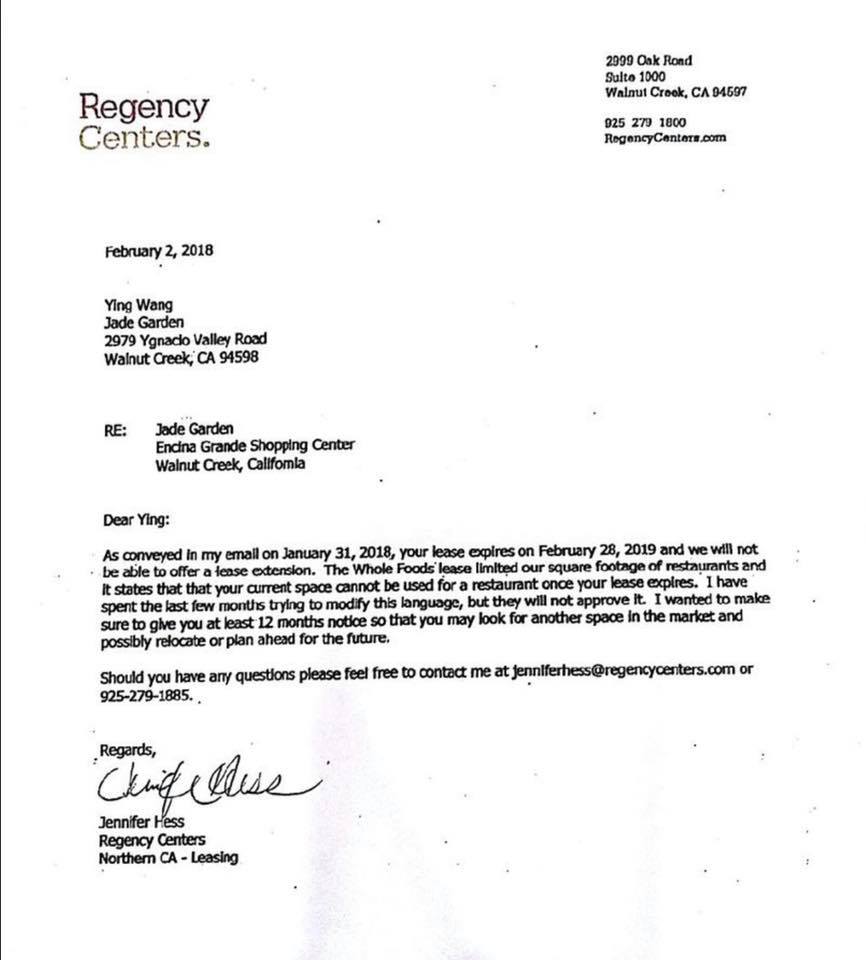 >
As we previously reported, Jade Garden Chinese restaurant and the UPS store have been told to vacate the Encina Grande shopping center on Ygnacio Valley Rd. due to a restriction in the lease with Whole Foods that limits the square-footage of restaurants in the shopping center.
The lease, according to the center's manager, Regency Centers, says the restaurant must leave the center once their current lease expires, and the space cannot be occupied by another restaurant.
AAA is planning to move into the space, which is why the UPS store is also being forced out. Regency Centers plans to combine the two units in order to make room for AAA.
Whole Foods signed the lease with Regency Centers before finally opening in 2016, however, Jade Garden was not told about the restriction in the lease until 12-months before they were told to vacate the center.
In a letter sent to the owners of Jade Garden from Regency Centers in February of 2018, it appears the center's manager attempted to modify the language in the lease several years after it was signed by both parties, but the Amazon-owned supermarket chain wouldn't approve the changes, according to Regency Centers.
Jade Garden and the UPS store must vacate the center in four months, by February of 2019.
It's currently unknown if other restaurants will be told to leave once their lease expires.
image: courtesy of Janis Roberts
RELATED STORY: Jade Garden, UPS Store Being Forced Out Of The Encina Grande Shopping Center Due To Restriction In Whole Foods Lease