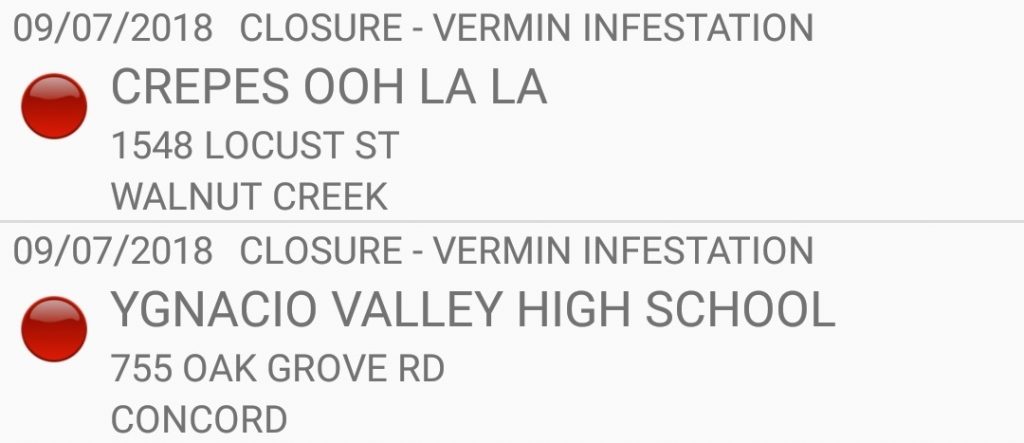 >
A high school cafeteria in Concord and a Walnut Creek restaurant were shut down last week due to a vermin infestation.
Inspectors from the Contra Costa County Health Department reported the following observations at the following restaurant and school cafeteria:
CREPES OOH LA LA, 1548 Locust St. Walnut Creek:
Observed dead and live cockroaches in food facility.
2-3 live nymph cockroaches by mop sink near 1-door upright refrigerator.
1 live adult cockroach at food preparation sink.
1 dead juvenile cockroach on wall above food preparation sink.
1 dead nymph cockroach in kitchen hand sink.
1 dead juvenile cockroach behind 2-door upright refrigerator in kitchen.
1 dead nymph cockroach on floor under cabinet of front hand sink.
1 dead adult cockroach in cabinet under espresso machine in front.
1 dead adult cockroach on corner of wall by 2-door reach in near crepe machine.
2-3 dead adult cockroaches underneath ice machine in front.
heavy black specks, egg capsules and dead cockroaches underneath loosely sealed plastic on food preparation
sink.
YGNACIO VALLEY HIGH SCHOOL CAFETERIA:
Observed 10+ rodent droppings and gnaw markings on condiment packets on the backside ledge of a piano (piano is stored next to the two door refrigerator).
3+ droppings on the floor underneath the piano.
5 rodent droppings on the bottom cabinet. Single-use articles stored inside the cabinet.
1 rodent dropping underneath the serving line in the front kitchen.
Gnaw marks noted on the plastic coping tile inside the dry food storage room.
All restaurants have since been reinspected and reopened.
Please click on the 'Dirty Dining' link to view all the most recent restaurant closures in Contra Costa County.