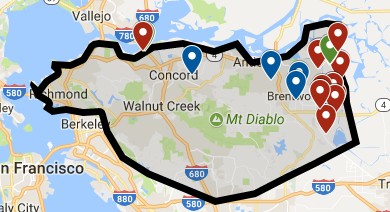 >
The Contra Costa Mosquito & Vector Control District is reporting mosquitoes from Brentwood and Quimby Island, and dead birds from Martinez and Discovery Bay have tested positive for West Nile virus.
This is the first dead bird from Martinez to test positive this year.
So far this year, 15 groups of mosquitoes, 10 dead birds, and 13 chickens from Contra Costa County have tested positive for the virus.
According to the District's Scientific Programs Manager Steve Schutz, Ph.D., "West Nile virus season is still very active as we head into Labor Day weekend, and so it's very important as county residents plan outdoor activities, that they remember to prevent mosquito bites by wearing repellent and by avoiding areas where mosquitoes are present."
Report dead birds to the state hotline: 1-877-968-2473. Birds are often the first sign of disease transmission in a particular area. Ravens, jays, crows, and magpies can be susceptible to the virus, and may die if infected.
Even if the birds are not tested, the reports alone yield crucial information to protect public health.