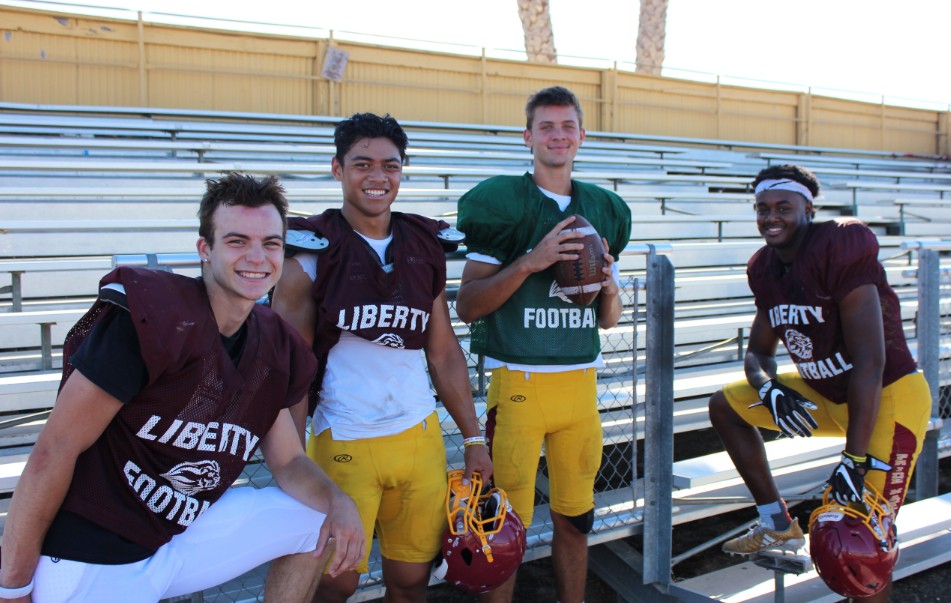 >
Story By James G. Kane | Photos By Chace Bryson
What a night!
Second one of December in 2017. They won't forget it. Not Liberty High School, the 116-year-old school at the heart of Brentwood, the agricultural community of over 60,000 in East Contra Costa County that loves its football. Not the community. Not the players. Not the coaches.
Historic achievements are unforgettable, and the Lions' 37-0 win over Freedom on Dec. 2, 2017, gave the school its first section championship. The locals say they've played some sort of football at the school since it was formed in 1902.
"We went out," Lions coach Ryan Partridge says of the celebration. "I was standing on the table."
That night!
A new collection of Lions have started anew, of course, working and sweating and focusing on the task in front of them — working through the grind of camp and not letting their minds drift.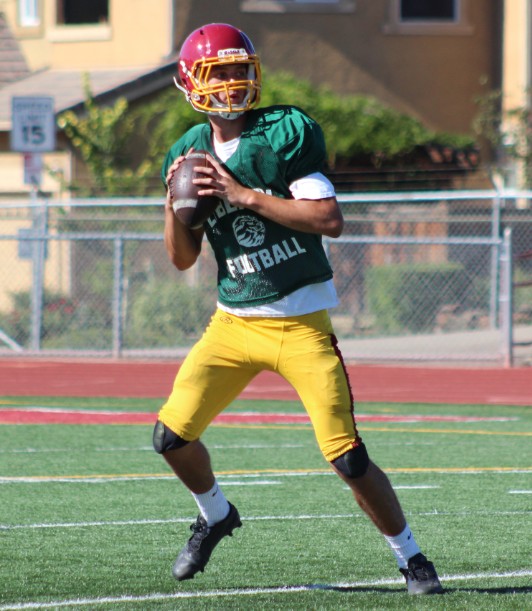 >
As Partridge also says: "Last year is last year. This year is this year."
In 2018, that means they are entertaining thoughts that rarely, if ever, have warranted consideration here.
California Interscholastic Federation bowl game anyone?
"That would be pretty cool," said Partridge, whose team defeated visiting Vacaville 35-10 in its season opener on Aug. 17.
It's not inconceivable. The Lions return one of the most coveted junior quarterbacks in the country, and he was only the second-best offensive player on the field in the NCS championship game win. On defense, they have a linebacker as devoted to film as any pro, and he anchors a unit that returns many of the starters who held their three playoff opponents to 27 total points.
This group has a good chance to be one of the four teams selected for the NCS Open Division this season, a step up from Division I. That would be significant, in that one playoff win could potentially earn the Lions a CIF regional bowl berth. From the NCS, the CIF's Division I berth is awarded to either the Open Champion or the Open runner-up, should the champion be advanced directly to the CIF Open Championship.
Partridge says that unless the Lions grind each day, any switch to the Open Division won't matter. And since these are teens, and nothing beats the first time, it will only be natural if those minds occasionally do wander.
"Let's face it, what the 2017 team did is always there, it's always going to be there," Partridge says. "It should be. To a degree, we have to embrace that even as we move forward. That's the fruit of the labor."
And this fruit wasn't ordinary. It was straight off the tree. Perfectly ripe. And bountiful.
"A lot of 'Congratulations!' linebacker Nicky Einess says. "Everywhere I went."
"It's been pretty cool," says two-way star Sione Vaki. "We all want to do it again. We've got the people to do it."
Just how far can they go? Ask the aforementioned QB.
"I don't see why we can't go all the way," Jay Butterfield says.
Why not? Butterfield is far more seasoned than he was in camp a season ago, when he could not wrestle the starting job away from senior Ryan Dutt. He and Dutt shared duties in the first nine games.
"That was hard for me," Butterfield says. "As a player, you always want to play and I'd never not played before. I'd never been on the bench. But you can't quit, and you have to keep working as hard as you can, and keep being prepared. That whole experience …  It really taught me a lot."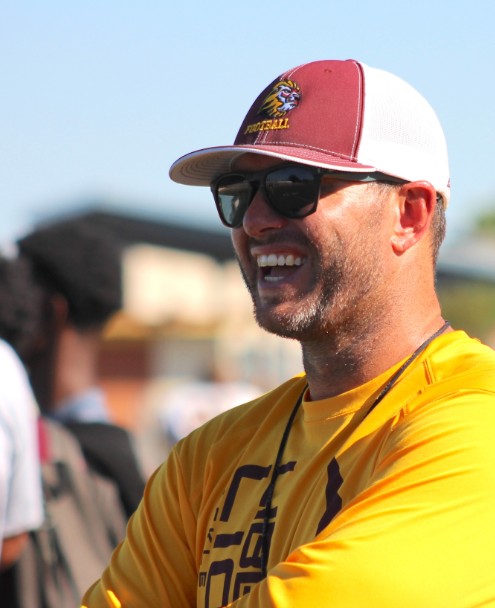 >
In the 10th game, Partridge handed Butterfield the keys. The rest became history. He produced 203 passing yards and three touchdowns in his first start, a 37-35 win over rival Freedom.
One month after that, he beat the Falcons again. That capped a three-game playoff run in which Butterfield threw for 502 yards and seven touchdowns. He was intercepted only one time in the playoffs as the Lions outscored their opponents 106-27.
His quarterback rating for the three games: 189.9.
Now, he has vast interest throughout the Pac-12. He's also attracted the attention of former 49ers and current Michigan head coach Jim Harbaugh.
Good things come to those who wait.
"We're just going to keep getting better," Butterfield says. "We went through so much last season, and it was really an amazing experience. Everybody wants to feel that again, so we've been motivated and working hard."
Butterfield enters his first full season as the starter riding a wave that shows no sign of breaking anytime soon. Rivals.com rates him as the state's second-best quarterback, and its eight-best player overall. 247Sports.com, places him as the third-best junior quarterback in the nation.
He is 6 foot, 6 inches of what appears to be a naturally born quarterback. The quick release. The powerful, tight spiral. The innate ability to drop a ball into exactly the spot it needs to be.
The 16-year-old inspires visions of his father, Mark, an Antioch High legend who threw 19 touchdown passes as a college senior at Stanford — including four in one game against UCLA — and played in the World Bowl for the Scottish Claymores of the World Football League.
"He's a thrower of the football," Partridge says. "He was born to do it."
For the Lions, he won't need to do it on every play.
Running back Tyerell Sturges-Cofer is the other heavy lifter. He ran for 255 yards on a whopping 8.8 per carry with three touchdowns in the title game and is back for his second varsity year. He ran 1,128 yards and averaged nearly six yards a carry in his first one.
"I think I came over here, and I was trying to prove a point and played with a little chip on my shoulder," Sturges-Cofer says. "I set a high standard by doing that, and now I've got to live up to that standard."
When Butterfield wants to go elsewhere, he also can look toward Vaki. The two-way starter caught 37 passes as a junior last season and averaged 21.9 yards per catch. He also rushed for 358 yards.
On defense, Vaki made 45 tackles and intercepted a pass that he returned 47 yards.
He is joined on the defense by Einess, the linebacker Partridge calls "another coach."
"I think he might watch more film than me," Partridge says. "As a result of that, teams a lot of times can't block him. It's so valuable having a guy like that. He's another coach out there. I could put him at any position, and he'd be fine."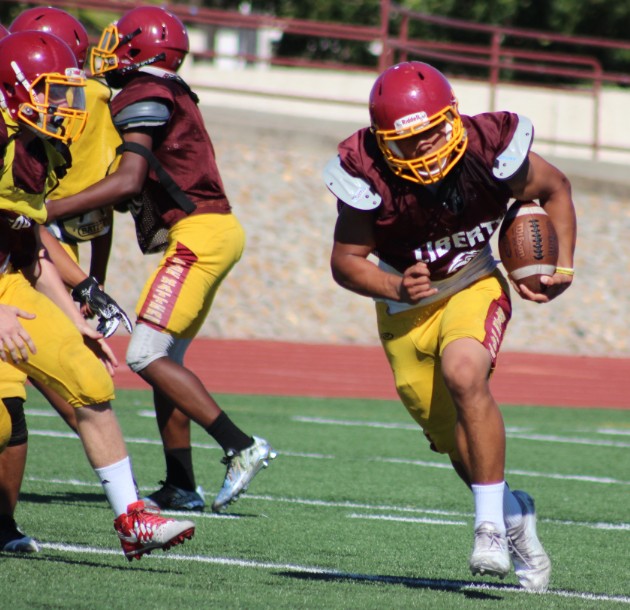 >
With Butterfield, Vaki, Sturges-Cofer and Einess leading the way, Partridge says it's easy for the rest of his team to fall in line. Such is the way that winning can lead to more winning, the way one milestone can lead to another.
"It's a pretty fun time," he says.
At this school, few times have ever been finer.
For more local sports content, please visit SportStarsMag.com.