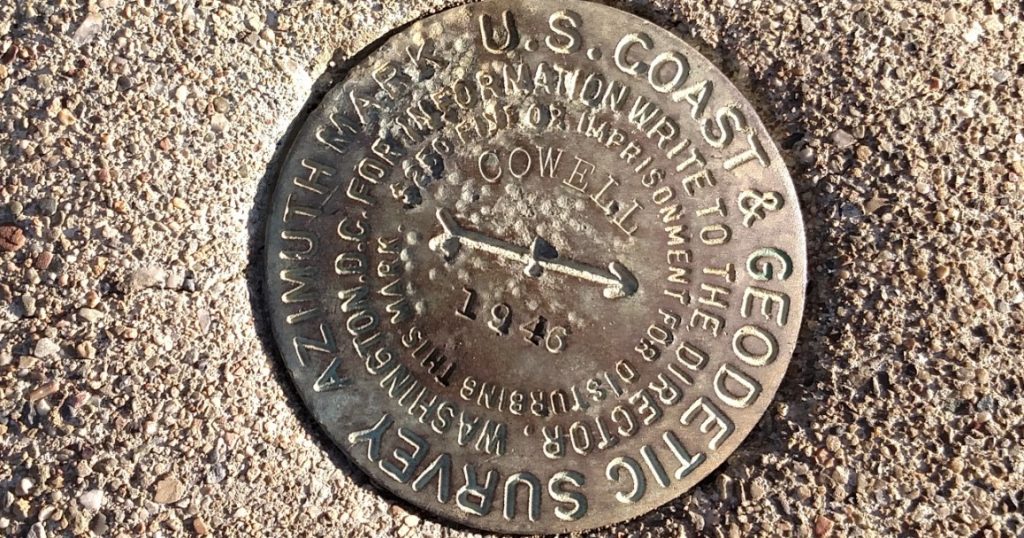 >
This is a geo-survey marker from 1946, marked with the word "Cowell". It's embedded in a concrete block, and was recently exposed after the fire in Lime Ridge Open Space in late June.
Our friend Atticus Thraxx found it just off the Ohlone Trail.
The following was described by the National Geodetic Survey in 1946:
THE STATION IS LOCATED ON THE HIGHEST POINT OF A LOW BRUSH COVERED HILL, ABOUT 2.9 MILES WEST SOUTHWEST OF CLAYTON,
ABOUT 1.4 MILES SOUTH OF CLAYTON AND ON LAND OWNED BY THE COWELL CEMENT CO. IT IS A TRIANGULATION STATION DISK SET
FLUSH IN THE TOP OF A CONCRETE MONUMENT PROJECTING ABOUT 1 INCH AND IS STAMPED COWELL 1946. IT IS 30 FEET NORTH OF A FENCE LINE, 68 FEET NORTHEAST OF A FENCE CORNER AND ABOUT 200 YARDS NORTH OF A POWER LINE PASSING OVER THE HILL.
Thanks to Atticus Thraxx for sharing this with us.
ABOUT THE CLAYCORD ONLINE MUSEUM: The Claycord Online Museum is made up of historical photos, documents & anything else that has to do with the history of our area.
If you have any old photos or items that you'd like to place in the Claycord Online Museum, just scan or take a photo of them, and send them to the following address: news@claycord.com. It doesn't matter what it is, even if it's just an old photo of your house, a scan of an old advertisement or an artifact that you'd like us to see, send it in and we'll put it online!
Click on the tag below titled "Claycord Online Museum" to view other items.