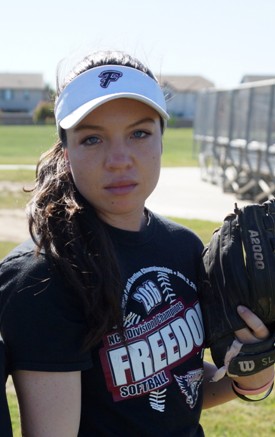 >
When Freedom senior Vanessa Strong is in the pitching circle, it's clear she is a top talent.
It was clear in a North Coast Section quarterfinal against College Park-Pleasant Hill on May 25 — when Strong tossed a perfect game. Twenty-one consecutive College Park batters retired in the 2-0 victory.
But Strong has made her biggest impact with what she's done outside the circle after becoming the Falcons' ace as a freshman in 2015. According to head coach Brook Russo, it's what Strong does at practice, in the film room, and at home that makes her a special talent — and our 2018 NorCal Pitcher of the Year.
"She wants to be the best and she works hard for it," Russo said. "For Vanessa, it's normal to work at home and on the week-end throwing and watching film. She is one of the best pitchers around and she's earned it."
Her father, Dave Strong, films every game, so that he and Vanessa can review her mechanics and opponents' tendencies. Af-ter practices, she often works on her spins and spots, and studies the next foe she will face along with her schoolwork. In addition to her 21-1 record and 0.71 ERA through NCS Div. I quarterfinals, Strong maintains an equally impressive GPA over 4.0.
"Her work ethic is unreal," Russo said. "She works double time with her softball and school, but that's her decision. That's what she wants."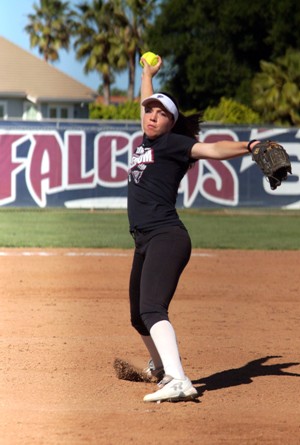 >
Strong is one of eight seniors who have played together for Freedom and in travel ball for years to become more of a family than just a team. They won an NCS title together in 2016 and reached the semifinals this year before falling to eventual-champion Amador Valley.
Strong — who will take her work ethic and pitching talent to Southern Utah University to continue her academic and athletic endeavors — also contributed to Freedom's offensive success. She batted .423 with four home runs and 19 RBI. The Falcons hit .387 as a team and outscored opponents 180-50. But Strong's greatest contribution, and the team's foremost reason for consistent success is her physical and mental talents inside the pitching circle.
"She's our rock" Russo added. "We have a lot of confidence in her, and when game time comes around, she goes in and gets it done." That much is clear. — Jim McCue
PHOTO CREDIT: PHILLIP WALTON
Visit SportStarsMag.com to discover what other Contra Costa County kids earned NorCal baseball and softball honors.