>
Snakes, snakes and more snakes! Lately, we've been getting an unusually high amount of snake sightings in neighborhoods and on roadways.
Here's another, and another, and another, and another.
I'm writing to you in hopes of informing the community on my recent rattlesnake sightings.
I was born and raised in the east bay and now live in Walnut Creek. In my 31 years here, I have not seen Rattlesnakes outside of state parks or open areas. After getting home from work this evening, I spotted a baby Rattlesnake in the street directly in front of my house that appeared to have been ran over by a car. I was a little shaken up as I have a young child and pets.
After a long talk with my daughter about snake safety, it was off to dinner. Still a little uneasy from the sighting, I was on the look out. What I saw next was almost a scene from a horror movie. 3 snakes in the street gutter on west bound Ygnacio Valley Rd. at Marchbanks. The closest snake in the photo doesn't appear to be rattler but the other 2 appear to be.
As I said earlier, I have never seen a snake outside of a state park or open area, and have seen 4 in the same day. This seems unusual to me, but maybe I didn't pay the attention in the past. Either way, please inform your children of the dangers of rattle snakes.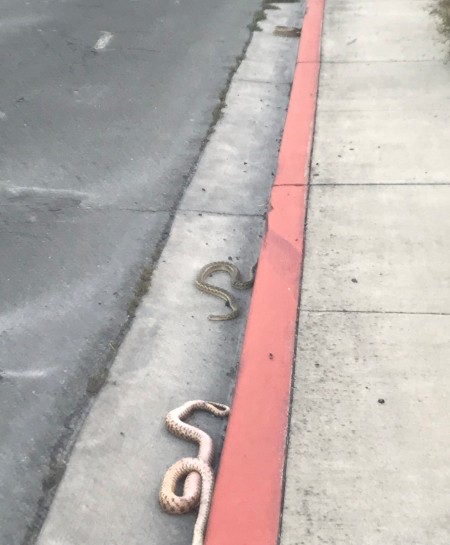 >
Thanks for the email. Be safe.