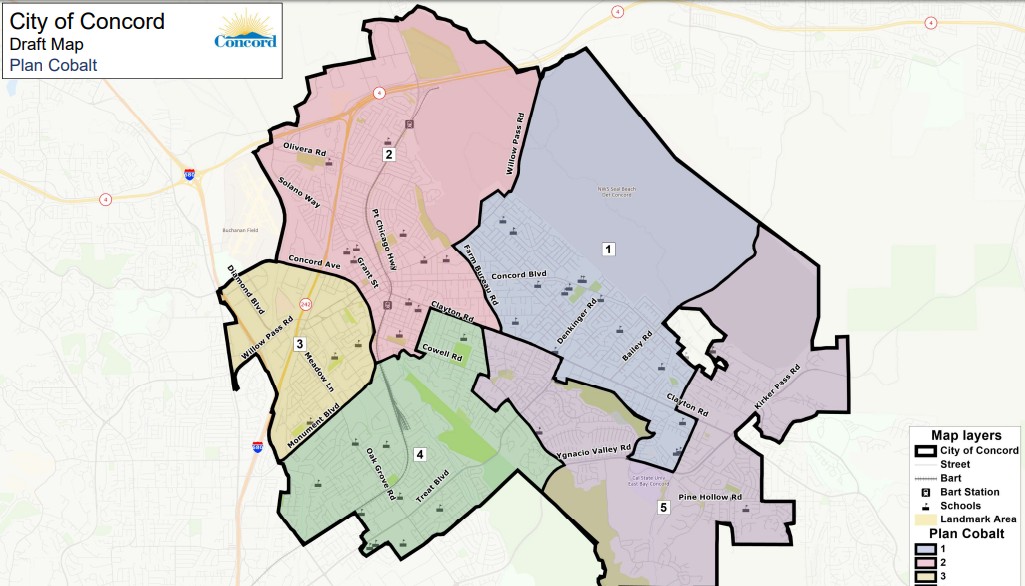 >
As we previously reported, the Concord City Council is in the process of changing the way City Councilmembers are elected.
Currently, five City Councilmembers are elected at-large, meaning that all registered voters in Concord have the opportunity to vote for all five council positions. Under the new system, City Councilmembers will be elected by district. One Councilmember, who lives in a district, will be elected by registered voters who also live in the same district.
Three public hearings to collect comments from residents on district boundaries have been held. At the last hearing, on Feb. 6, the City Council reviewed four draft District Boundary maps and directed the City's demographer to modify the Plan Blue map to create the proposed final map, dubbed Plan Cobalt. It divides the City into five voting districts of approximately equal size by population.
The final public hearing on the district map will be held Tuesday, Feb. 27 at Civic Center, 1950 Parkside Drive, in the Council Chamber at 6:30 p.m. The meetings are televised on Concord Cable TV channels Comcast 28, Astound 29, AT&T U-verse 99, and will be streamed live on the City's website from the home page.
Residents are also welcome to submit comments any time by email to districtelections@cityofconcord.org.