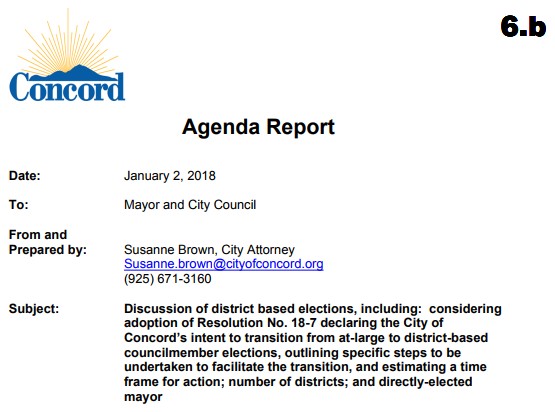 >
The Concord City Council tonight will discuss changing the city's elections to a district-based system rather than the current at-large setup.
The proposed change is in response to two letters, one from a Walnut Creek-based attorney and another from the Malibu-based law firm Shenkman & Hughes, which has sent similar letters to other jurisdictions around the state, including recently in Santa Rosa and San Rafael.
Antioch, Martinez, Pittsburg and Brentwood are among other Contra Costa County cities that have received the letters, Concord city officials said.
The letters sent to Concord in November both allege that the at-large system dilutes the ability of Latinos in Concord to elect candidates of their choice and threatens litigation if the city does not convert to
district-based elections.
In September 2016, Gov. Jerry Brown signed legislation that provides a "safe harbor" from litigation for cities that choose to voluntarily transition to district elections.
The law outlines steps that need to be taken during the transition, including adopting a resolution declaring the intent to transition, holding five hearings within a 90-day period, city officials said.
The City Council on Tuesday will consider approving the resolution and, if it does so, will determine the number of districts to be formed, the boundaries of each district, whether Concord's mayor should be directly elected, and the timing and sequence of the elections.
The Council has five members and currently selects one of its members to serve as mayor on an annual basis.