The California PBIS Coalition, in its second annual recognition process to acknowledge schools for implementing PBIS with fidelity to the national framework, has recognized 20 Mt. Diablo Unified Schools for outstanding efforts in implementing Positive Behavioral Intervention and Supports (PBIS) programs across the District.
Using a rigorous scoring matrix, the PBIS 2017 Recognition evaluated schools in seven categories with possible rankings for Bronze, Silver, Gold and Platinum.
Sixteen MDUSD schools were awarded a Silver status; four others were awarded a Bronze.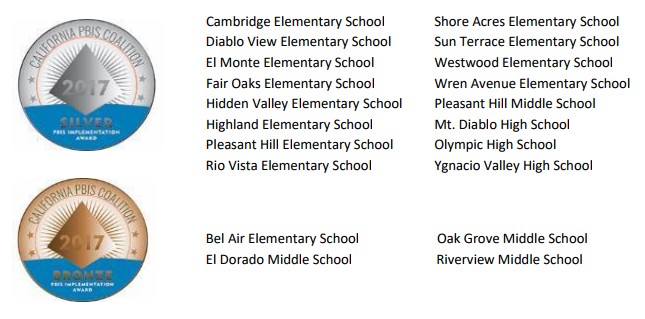 >
SILVER:
Cambridge Elementary School
Delta View Elementary School
El Monte Elementary School
Fair Oaks Elementary School
Hidden Valley Elementary School
Highlands Elementary School
Pleasant Hill Elementary School
Rio Vista Elementary School
Shore Acres Elementary School
Sun Terrace Elementary School
Westwood Elementary School
Wren Avenue Elementary School
Pleasant Hill Middle School
Mt. Diablo High School
Olympic High School
Ygnacio Valley High School
BRONZE:
Bel Air Elementary School
El Dorado Middle School
Oak Grove Middle School
Riverview Middle School