>
Traffic Jammin' with Janis Mara – Every first and third Monday at 2 p.m. on Claycord.com.
TRAFFIC JAMMER: Greetings, all! This Claycord.com column is for everyone who negotiates the highways and public transit of the Bay Area. It runs every first and third Monday of the month at 2pm and answers your commuting and transportation questions.
Email your questions to trafficjammin@claycord.com
COMMUTER: I am just curious how drivers feel about bumper stickers and clever license plate frames.  
Do they look at them? If it sends a political message, does it make them do further research and/or instantly judge the driver in front of them? If it is funny, do they laugh?   If it is a tribute to a deceased, do they get sad or/and maybe say a prayer? Or is everyone too busy looking at their phones to even read the messages?
–Just Curious and Hoping for Fun Answers
TRAFFIC JAMMER: What a great idea! Thanks for writing in with this suggestion. The Jammer cannot resist sharing her response: Yes, when someone has a bumper sticker or decal on their back window mourning a relative, it is touching and sad. Beloved Claycordians, now it's your turn. Feel free to share your thoughts!
TRAFFIC JAMMER: Recently, we've been discussing the new 12-cent-per-gallon gas tax going into effect Nov. 1. Chuckie the Troll expressed skepticism that the money would actually go to fix deteriorating freeways and local streets:
COMMUTER:  As for the latest tax from jerry-rig Brown, the man who as governor in the 70's proclaimed, "No new freeways," and sold off Caltrans' right of way, and today is throwing BILLIONS of dollars down a high-speed rail to nowhere…I expect this money to be diverted for other stuff just like our other gas taxes and registration fees.
—Chuckie the Troll
TRAFFIC JAMMER: Chuckie's comment about High-Speed Rail put the Jammer in mind of a new startup that aims to whisk passengers from San Francisco to Los Angeles in about six hours, the Sleep Bus. https://www.sleepbus.co/
The idea is you get on the bus at 11 p.m. and sleep all the way to L.A. in this luxurious Volvo vehicle, saving a night's hotel fees. The cost is $48. The bus isn't rolling yet, but the Jammer is curious … Beloved Claycordians, would you ride this bus? Because it could save Californians some $70 billion that otherwise would be spent on High-Speed Rail, yes?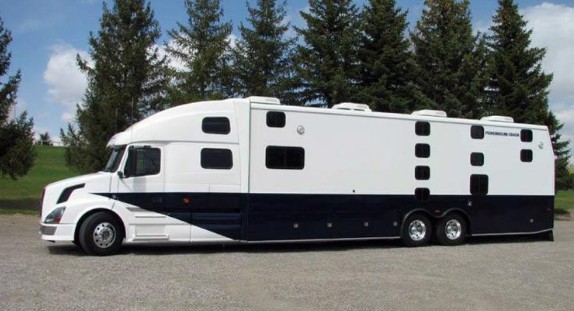 >
COMMUTER: Let's be real: Driving 55 on the freeway has now become a hazardous practice.
— 3rdrail9er 
TRAFFIC JAMMER: This came up in a discussion of how to save gas. The single most effective thing a driver can do is to drive 55, but several Claycordians understandably balked at this suggestion in the last column.
Nytemuvr commented, "Proper tire inflation and wheel alignment are big determining factors for good vehicle gas mileage," and of course, that is correct. ClayDen pointed out, "Driving smoothly at the speed limit will allow you to get to your destination in a reasonable time for a small penalty in gas mileage. After all, time is worth something." This is another excellent point.
KP described driving 55 as "an invitation to road rage," and the Jammer agrees that this is an important consideration. If you choose to drive 55, be sure to use the far right lane.
Generally, driving 55 is safer. In 1973, Congress required that states adopt 55 mph as the speed limit to receive their share of highway funds. It was done to save fuel, but the most dramatic result was a decrease in fatalities.  http://www.iihs.org/iihs/news/desktopnews/speed-limit-increases-cause-33-000-deaths-in-20-years
TRAFFIC JAMMER: That's it for this week. Be sure to cruise by Claycord.com at 2pm on the first and third Mondays of the month for more traffic intelligence. Remember, whether you drive, walk, bike or hop Amtrak, BART, County Connection or AC Transit, Traffic Jammer Janis Mara is here to answer your questions.
Send your questions to trafficjammin@claycord.com.