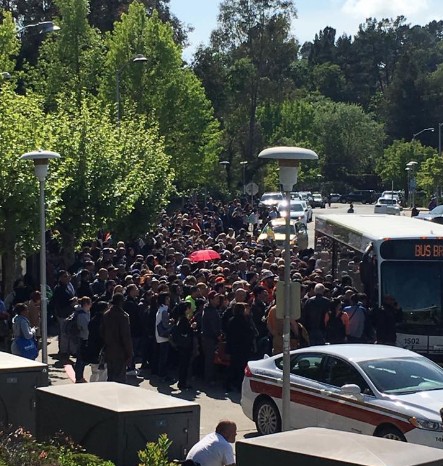 >
A person who was threatening to jump from a platform at the Walnut Creek BART station, disrupting service this evening, is reportedly on a firefighter ladder this evening and BART officials are hoping the incident will be wrapping up soon.
BART trains are currently running through the Walnut Creek station, but not stopping, BART spokesman Taylor Huckaby said.
The incident began at around 1:30 p.m. and BART police responded to negotiate with the person, described as an "unstable patron," and deescalate the situation.
The station has been closed for hours, but as of just after 5 p.m. trains were running through the station without stopping.
Parallel bus service is running between Pleasant Hill, Walnut Creek and Lafayette. Passengers headed to Walnut Creek will need to use the bus bridge.
Passengers should speak to station agents to be directed to the buses, Huckaby said.
photo: BART passengers wait in Lafayette for a bus-bridge – photo courtesy of Ryon Hayward