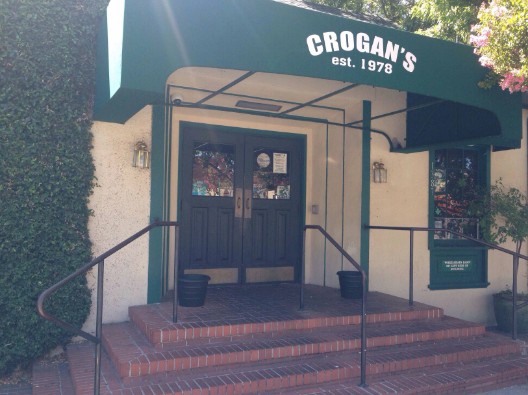 >
After 39-years in Walnut Creek, Crogan's Sports Bar & Grill is closing, according to employees.
Employees of the Locust St. bar say they're holding a 'Going Out of Business Party' on Jan.22, which will be its last day in business, according to sources.
Recently, the Walnut Creek Planning Commission recommendation that Crogan's stop serving and selling alcohol at midnight and close at 12:30 a.m. after they found that Crogan's, as operated, constitutes a public nuisance.
Crogan's had its license suspended for 20 days in 2014 because of numerous police calls to deal with fights, assaults and public drunkenness. They also had their license to sell alcohol suspended twice before that — for 10 days in 2008 for selling alcohol to a minor and 15 days in 2010 for serving an obviously intoxicated patron and allowing public drunkenness, according to the Department of Alcoholic and Beverage Control.
UPDATE: The owners just posted the following statement on Facebook:
Friends of Crogan's.
It's with a heavy heart that we announce that after 39 years of business, Crogan's will officially be closing the doors on Monday, January 23.
Many of you have been following the dealings with Crogan's and the city of Walnut Creek. Unfortunately, the city has made it clear that they have very specific ideas in mind for what Walnut Creek should be and Crogan's no longer fits into their narrative. Ultimately, we have been forced to close our doors.
Crogan's will have modified hours this week: Monday, January 16 – Thursday, January 19, we will be open from 4 p.m. – 12:30 a.m. Next Friday, January 20th – Sunday, 22 we will be open from Noon – 12:30 a.m.
For all of our friends and family who've had a meal, a drink, celebrated a big night out with our Crogan's family. For those of you who worked with/for either our Dad (Wayne) or our Mom (Patsy). For anyone who met their significant other there (I know there are a lot of you), hosted, bussed or bartended. Come help us celebrate.
Please plan to join us as we celebrate 39 years of business, community and family on Sunday, January 22 from 10 a.m. – until close. Complimentary food will be provided. For those who can't come by Sunday, please come visit us this week, share your memories and bid your favorite bartenders farewell!
Crogan's is all our family has known and we're heartbroken to see it come to an end the way it has.
Thank you for the many years of loyal patronage and love.
Onward!
photo credit: Zomato.com