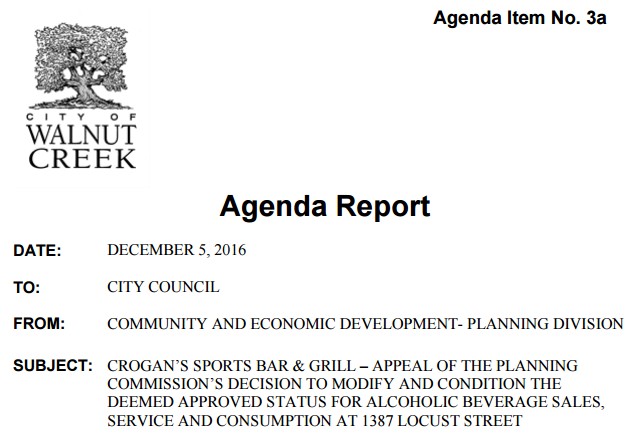 >
The Walnut Creek City Council tonight is expected to decide whether to uphold a Planning Commission recommendation that Crogan's Sports Bar and Grill stop serving and selling alcohol at midnight and close at 12:30 a.m.
The Planning Commission found that Crogan's, as operated, constitutes a public nuisance and unanimously voted to scale back operating hours.
The owner of Crogan's is appealing the Planning Commission decision, asking instead that it be able to serve/sell alcohol until 12:30 a.m. and stay open until 1 a.m.
Tonight's meeting is a continuation of a public hearing held before the City Council on Nov.15.
Crogan's had its license suspended for 20 days in 2014 because of numerous police calls to deal with fights, assaults and public drunkenness. They also had their license to sell alcohol suspended twice before that — for 10 days in 2008 for selling alcohol to a minor and 15 days in 2010 for serving an obviously intoxicated patron and allowing public drunkenness, according to the Department of Alcoholic and Beverage Control.