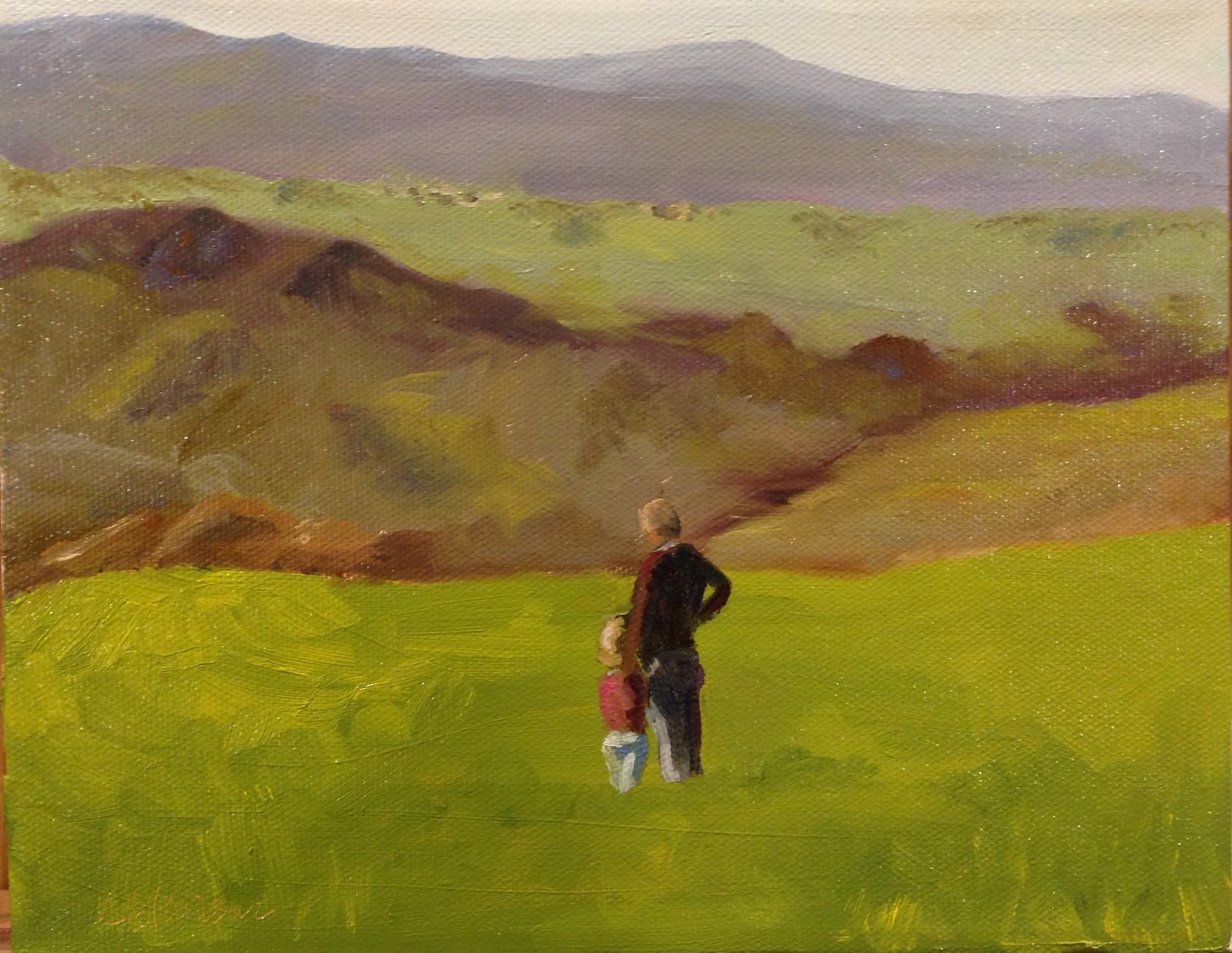 >
caption:  "David's Visit" by Laurie Mansur – Oil
Several artists have been sharing insights into their artistry on the Concord Community of Artists blog this month. What I personally loved hearing the most was how much they appreciate Concord and what this area has to offer each of them as artists. We all get lost sometimes within the monotony of our daily routines or we become anxious upon hearing bad news when it's reported, so it's refreshing to be reminded of what we love about living here!
The artists quoted below are part of a show called "sight/unseen" that opens this weekend at The Artist's Den in downtown Concord. It promises to be very inspiring – each of us has created something brand new that expresses an aspect of our identity. Don't miss this exhibit – click here for more information.
"I love living in Concord because it provides the best of many worlds. It's a small town in the midst of a major metropolitan area, so we get to have the quiet, slower pace, open space and access to nature, but also we have many influences of the cities of Oakland and San Francisco, like a rich cultural and economic diversity." – Laurie Mansur
"When I moved to Clayton from Chicago, I immediately felt at home and each subsequent year has only solidified that feeling. From the oak-covered emerald green winter and spring hills to the clear blue summer skies leading to our long glorious fall, there is no better place to live or to be inspired to create art based on nature." – Sharon Petersen
"The natural beauty of our area is a constant inspiration for my art. Every morning I look out at Mt. Diablo and marvel at the ever-changing vista. I love that downtown Concord is centered on a historic square that provides a focal point for music, art and food." – Catherine Hensiek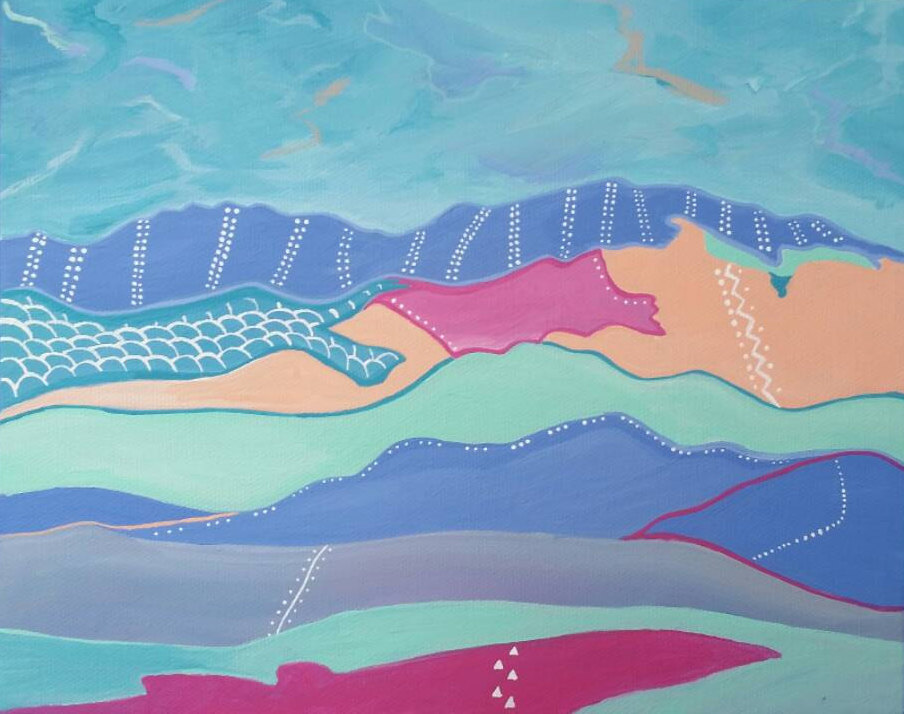 >
caption:  "Mt. Diablo" by Michelle Cicala – Acrylic
"Concord has a very down-to-earth vibe, with tons of great parks, a beautiful downtown, and wonderful people. I am so inspired by the artists I have met in Concord. They are passionate about their work and about growing our artist community. They have all been so supportive of me getting my art out to the public, and help me feel like part of the growing and vibrant Concord art scene." – Michelle Cicala
"After leaving Chicago, I wondered if there would be enough inspiration for artistic growth here. Where would I find the vivid colors I celebrated during the seasonal changes of the Midwest? The answer is the light – brilliant light that emerges from shadow to define contours in objects, landscapes and people. The light in Concord's hills against low, shaded valleys presents an artist with sharp contrasts in light intensity. It can be unforgiving light emerging from a black, shadowy background, or it can be a softly muted light tracing powdery shapes." – Mary Frances Crabtree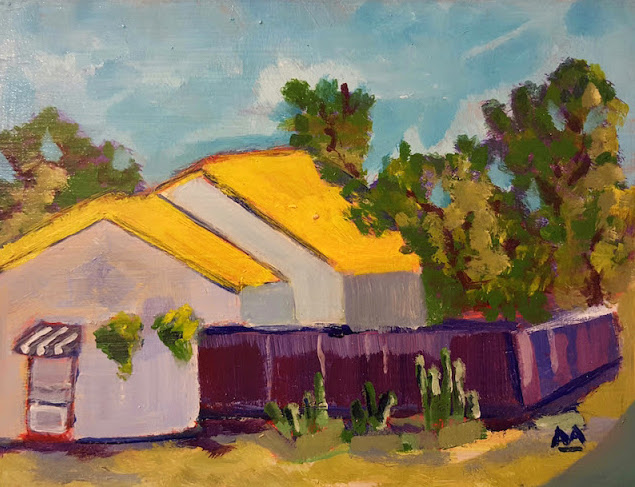 >
caption: "Purple Heart" by Anamilena Ayala – Acrylic
"We find everything we want in Concord, from markets to bike trails. It got to be even better when I found the Concord Community of Artists. After attending my first get-together, I became a regular participant and supporter of this group!" – Anamilena Ayala
"Concord has been a great place to raise my family – we have made many lifelong friends here. As an artist, there are numerous parks and places to sit, observe life and paint or sketch." – Kim Lawson
"The mild weather, Mt. Diablo, walking/cycling trails, proximity to ocean and mountains – this is all very valuable for me as an artist. The more I become involved in the community, particularly the arts community, the more likable Concord is to live in." – Sylvia Nuzzo Philis
Concord Community of Artists develops mutually beneficial opportunities for artists to come together and work with local businesses and service organizations to celebrate the value and positive impact of the arts and how it strengthens the vitality of our entire community.
Visit ConcordArtsAlive.com for more details.