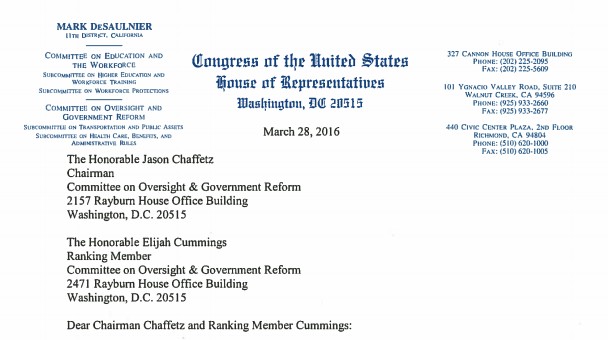 >
Congressman Mark DeSaulnier (CA-11), a member of the House Committee on Oversight & Government Reform (OGR), called on Chairman Jason Chaffetz (R-UT) to convene a hearing to look into long-standing criticisms of the National Football League (NFL)'s actions related to concussions.
Last week, the New York Times reported that data gathered by the NFL between 1996 and 2001 to study the dangers of concussions excluded at least ten percent of head injuries diagnosed by team doctors from its findings.
"Blatant gaps in data collection and analysis undermine the credibility of the NFL's concussion studies and call into question the League's commitment to fully understanding the dangers associated with the sport. These reports clearly slowed the march toward safer techniques, better technology, and improved education on football fields across the United States, and provided false comfort to coaches, student athletes, and parents," said Congressman DeSaulnier.
"While the NFL relinquished its long-held tax exempt status last year, the League still enjoys certain antitrust exemptions allowing it to act as a monopoly, making their actions and policies uniquely provocative to Congress and our committee. In the interest of providing our parents and coaches with the information they need to determine the long-term impacts of all contact sports on student athletes, it is my hope that you will convene a hearing to better understand the NFL's position and ongoing efforts regarding concussion-related research," concluded DeSaulnier.
Congressman DeSaulnier has been a fierce advocate for educating America's youth about the potential negative consequences of traumatic brain injuries (TBI), including concussions. He is the author of the Protecting Student Athletes from Concussions Act (H.R. 2062), which creates nationwide standards on concussion safety.