Violent crime continues to rise in Concord, but overall crime is down, according to numbers provided by Concord Chief of Police Guy Swanger.
>
The numbers are for the year 2015, and show murders, rapes, robberies and assaults all increased. Non-violent crimes such as burglary, larceny and auto theft are down.
Chief Swanger said the very large decrease in burglary has to do with residents being more aware of their surroundings, and reporting suspicious activities.
30 rapes were reported in Concord in 2015. 28 of them were committed by a person the victim knew.
>
Concord had 182 robberies in 2015. In 2014, Concord, had 10 commercial robberies, in 2015, Concord had 26.
>
Vehicle theft is down a bit.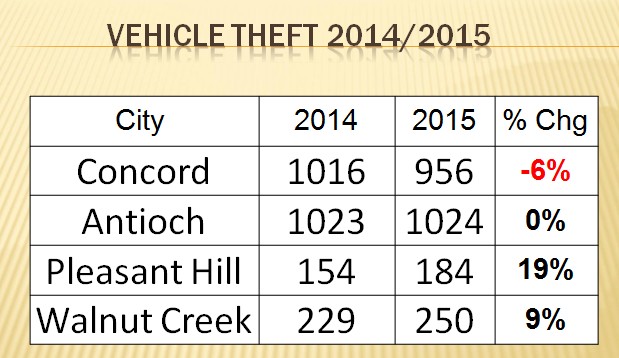 >
And the recovery rate for vehicle theft looks good. Most of the vehicles stolen in Concord are recovered in Concord.
>
Chief Swanger said Prop.47 played a role in the amount of adults arrested for felonies. He said cases that used to be felonies are now misdemeanors, meaning the felony number drops and the misdemeanor number increases. He said this decrease/increase in arrests is a direct results of Prop.47.
>
Chief Swanger gave an hour-long presentation to the Concord City Council on Tuesday evening. To watch the presentation, please CLICK HERE.