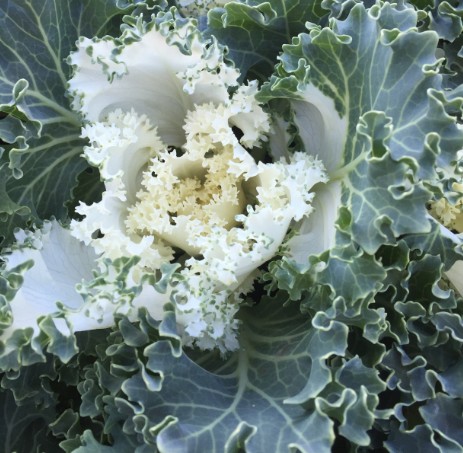 >
When the weather gets cold, and winter is upon us, garden lovers crave the colors white and red in their beds, borders and landscapes.
White flowers hugging the ground, and cascading out of containers suggests the illusion of snow, which is an appealing winter effect. Simple white asylum is a garden center staple that has clusters of tiny snowy flowers that have a sweet fragrance.
Pansies and violas are wonderful winter annuals. Their happy faces continue to smile during the coldest of nights.
Both pansies and violas are available colors of white, red and combinations of both. Pansies and violas do best planted where they can enjoy some winter sun. Plant 3" size containers along walkways and garden beds for impact.
Stock is a fabulous vertical growing winter annual that's available in many colors including white, wines, reds, lavenders and pinks. During the early morning hours, stock is its most fragrant. Install stock in the center of a container and surround with ornamental cabbage for a wintery color spot.
Cyclamen is a favorite for entryways and shade gardens during the winter. This bulb plant is a winter blooming perennial. One of the best features of cyclamen is that it returns each year. When spring begins to warm cyclamen goes to sleep, and returns in late fall once the weather chills again.
Flowers are fabulous, that's for sure, but there are touches of foliage that also satisfy our winter botanical cravings. Both cypress and spruce have family members that can help quench our winter landscape desires. Blue spruce has bright blue needles that look amazing during the winter months. Boulevard cypress is a silvery blue-green conifer that will reach 6-8' tall in a Claycord landscape.
Happy Gardening.
Nicole Hackett is the Garden Girl at R&M Pool, Patio and Gardens, located at 6780 Marsh Creek Road in Clayton, 925-672-0207.