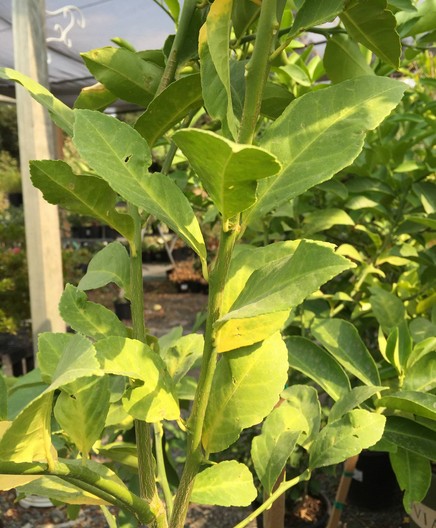 >
Claycord's citrus shrubs and trees are in need some tending too this month.
Citrus plants (especially installations less than five years old) can be suffering from yellowish leaves, erratic fruit/flower drop and pest damage during these last days of summer.
It is time to help your citrus shrubs and trees by fertilizing.
Fertilizing will encourage greener leaves and aid in the maturing and sweetening of young fruit.
Summer stress can take its toll on citrus. Long days of hot temperatures and drying winds combined with water rationing can lead to citrus displaying curling, pale leaves that are desperate for nutrients to replace those that were evaporated out by the season.
One must evaluate the condition of their citrus before they fertilize. How yellow or green are the leaves? When was the last time you fertilized? Is there any fruit forming?
Citrus that has green leaves and developing fruit should be fertilized with a formula to encourage large, juicy, sweet fruit. Look for formulas that have lower nitrogen than phosphorus and potassium. Ideal formulas are 3-20-20 or 2-10-10 if choosing a water-soluble fertilizer and 0-10-10 if using a granular fertilizer. How you irrigate your citrus will determine the type and application of fertilizer you use. Those that water with a drip system will need to fertilize with a water-soluble fertilizer. Folks that irrigate with sprinklers or hand water have the luxury of using a granular fertilizer.
Citrus that has yellowing leaves should be fertilized. Use a fertilizer formula that reads 7-3-3 or 8-4-4. The first number in both of these formulas represents nitrogen. This amount of nitrogen hopefully won't initiate fruit drop.
If you have yellow leaves on your citrus and you have fertilized within the past month, you should consider applying a dose of iron. Chelated Iron is a great choice to use for fast greening of leaves. You can apply it directly to the leaves as a spray, or water it in. Follow the directions on the label.
Let's say your citrus looks awful. The leaves are yellow, curled and your shrub or tree shows no signs of any fruit. If this is the case, fertilize with a dose of multi-purpose fertilizer. Look for a 16-16-16 formula and follow the label directions. You can use a higher percentage of nitrogen here since your citrus is in such distress.
Pests can be a big problem on citrus towards the end of the summer. Scale and leaf miners can infect healthy looking plants fast. Scale is a hard-shelled insect that attaches itself to citrus stems, wood and the backs of the leaves. You will probably notice ants on your citrus before you actually see the scale. Control scale by removing highly infected branches, spray shrubs with Neem Oil and use an insect barrier like Tangle Foot to prevent the ants from traveling up the plants. Leaf miners were a nuisance last year, and we've seen traces of the pest this year.. Leaf miners are tiny, caterpillar looking larva that mine there way within the layers of your citrus leaves. One they are present, you simply need to cut the tips of the stems off of the plants. Spraying isn't an option, since the problem is within leaf.
Growing citrus can be hard the first handful of years, by eventual yields are worth all the work. Nothing beats a juicy, homegrown orange.
Happy Gardening.
Nicole Hackett is the Garden Girl at R&M Pool, Patio and Gardens, located at 6780 Marsh Creek Road in Clayton, 925-672-0207.