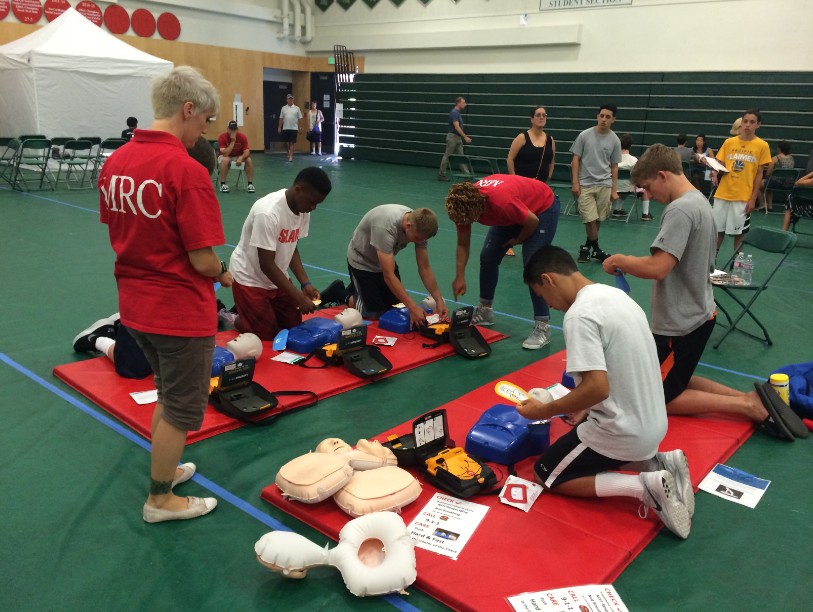 >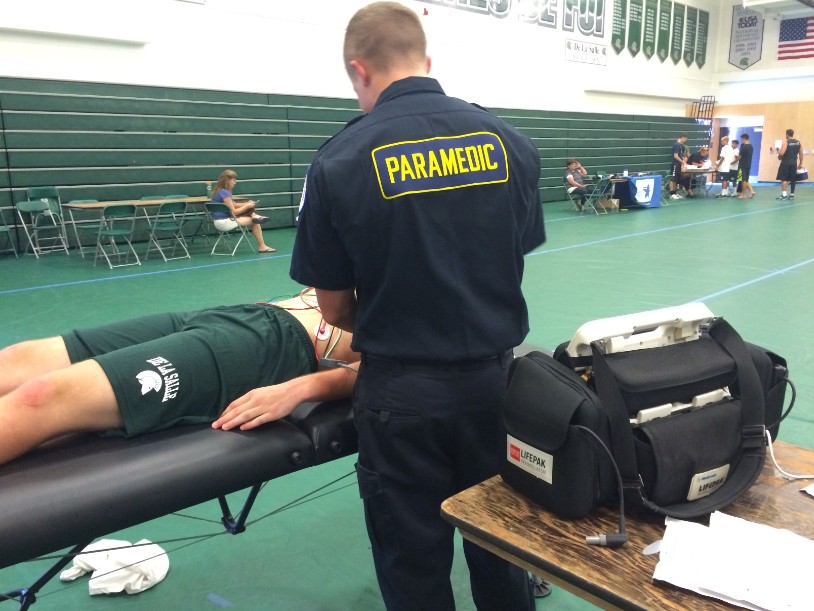 >
De La Salle High School launched its sport season with a free heart screening presented by the Darius Jones Foundation (DJF).
On August, 15th 150 students were screened and five hearts were found to be abnormal. Players from the basketball, volleyball, cross country, football and tennis team participated in a complimentary screening, equating $2,000 in cost for every student.
In collaboration, the Darius Jones Foundation, Contra Costa County Medical Reserve Corps (CCCMRC), Heart of the Valley Cardiologist, American Medical Response (AMR) and medical volunteers across the county came together to search for potential heart abnormalities in these athletic students.
"My desire for a heart screening occurred after the death of my son, Darius Jones" said Beverly Monique Bradley, mother and founder of the Darius Jones Foundation. Darius suffered from sudden cardiac arrest (SCA) during a basketball game at De La Salle in 2009. SCA is not a heart attack, it's an abnormality in the hearts electrical system that abruptly stops the heartbeat. "He had an undiagnosed heart condition and that tragic moment inspired me to start this foundation, bearing his name. Each organization involved played a huge role in the planning process and helped to make this project a reality," she explained.
During the screening, the students stopped at six stations. The CCCMRC brought six medical professionals to assist with logistics, blood pressure, heart sounds, EKG, and provide Hands Only CPR and AED education and training.
More than 175 students and parents walked away with the knowledge and training to successfully save a life if needed. "Hands Only CPR training is crucial in ensuring we live in heart safe communities and are satisfying all elements of the SCA chain of survival," says Lisa Vajgrt-Smith, CCCMRC Coordinator. The CCCMRC is instrumental in promoting this training throughout Contra Costa County.
The electrocardiogram or EKG station was administered by American Medical Response. "An EKG machine takes a picture of the heart and its electrical activity" says Alicia Moore, Community Outreach Coordinator for AMR. "The first step to prevention is detection" said Moore. The EKG machine has the ability to pick up on an abnormal heart condition, preventing another unexpected death in our community." Moore continues.
Mike Griffin, Andrew Maxwell and Christina Sheridan, pediatric cardiologists from Heart of the Valley Pediatric Cardiology and Pediatric Cardiology Associates directed the echo station. An echocardiogram is an ultra sound test of the heart. Cardiologist read the EKGs and oversaw the performance of echocardiograms on students who needed further diagnoses. "We found a few athletes with major concerns, needing immediate attention" says Andrew Maxwell, Pediatric Cardiologist. "We also found some athletes with minor concerns which should not go unmonitored. Although sudden cardiac death in athletes is somewhat rare, it's still happens several time a year in the Bay Area. The Darius Jones' story reminds us of that fact. It's a number we want to decrease." continues Maxwell.