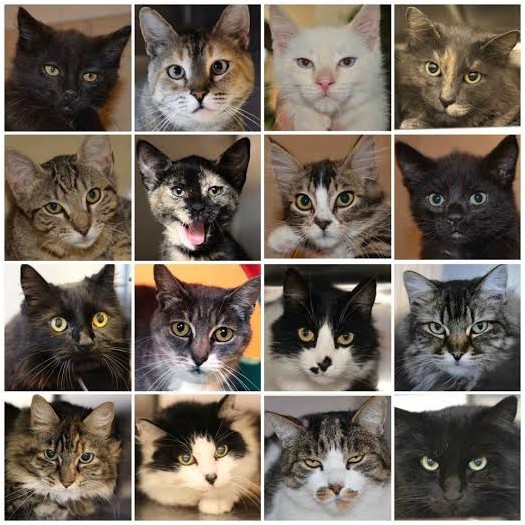 >
Hi Pet Loving Claycordians!
This week I decided to ask some of my fellow shelter volunteers to write about our cats and kittens! Dogs, puppies, cats, kittens – so much love at the shelters we encourage you to come visit!
As Smart Paws Pet Resources says, unconditional love is as close as your nearest shelter.  It's true – and at Contra Costa County Animal Services, we have many cats and kittens for you to meet!
As of 7/24/15, the shelter has 142 cats available for adoption (28 cats over 1 year old and 114 cats under 1 year old).  And yes, that is a lot of cats. We have adult cats, young kittens, and older kittens in just about every color, fur length, and personality. Many people come in looking for a kitten.  Kittens are fun to watch and playful.  They have so much energy that we recommend that they are adopted in pairs so they can tire each other out (and not you at 2am when they decide it is time for the kitten Olympics).  On the other hand, every kitten becomes a cat.  With adult cats, we can better gauge what kind of companion they might be: playful, relaxed, quiet, shy, etc.  We love to match people up with cats or kittens that work with their expectations, lifestyle, and family members (human and other animals).  
One study found that older cats take 5 times as long to be adopted as kittens.  And during kitten season, the study found that it takes adult cats 6.5 times as long to be adopted!  We understand that sometimes you just want to adopt a kitten and that you have the time and patience to raise a kitten through its energetic kittenhood.  We just want you to check out some of the cats that are over a year old too.
There are other ways to help the shelter's cats and kittens if this is not the right time to add a feline to your life.  We need volunteers to socialize cats and kittens as well as to foster sick, injured and orphaned animals until they are ready for placement or have recovered from surgeries or other medical issues.  During warm months, cat, kitten and puppy foster parents are desperately needed.  Become a foster volunteer and discover how rewarding it is to help an animal get ready for a new home.
If you would like to meet some of the shelter's adoptable cats and kittens, please visit the shelter at 4800 Imhoff Place in Martinez, CA.  The shelter is open on Tuesday – Saturday from 10 am – 5 pm (Wednesdays until 7 pm).  On Sundays, the mobile adoption team works outside the shelter from 12 noon – 3 pm.  If you have any questions, please call the Main Line at (925) 335-8300 or the Volunteers at (925) 335-8330.  
p.s.  Cat and kitten adoption fees are $50 through July 31st and include the adoption fee, license, microchip and spay or neuter fees.  Who says you can't buy love?  
Come visit CCAS with some great pets for adoption at the Downtown Martinez Peddlers Faire this weekend, Saturday August, 1st, 8am-4pm!
MANY beautiful dogs and cats will be ready for adoption at the shelters too! Visit Smart Paws on Facebook 24/7!
Shelter Info:
4800 Imhoff Place, Martinez
910 San Pablo Ave, Pinole
The shelters are open 10-5 Tuesday through Saturday and open later until 7pm on Weds.
Adoptions in front of the Martinez shelter from 12-3 on Sundays!
Search all available dogs, cats, rabbits, guinea pigs, etc at www.ccasd.org