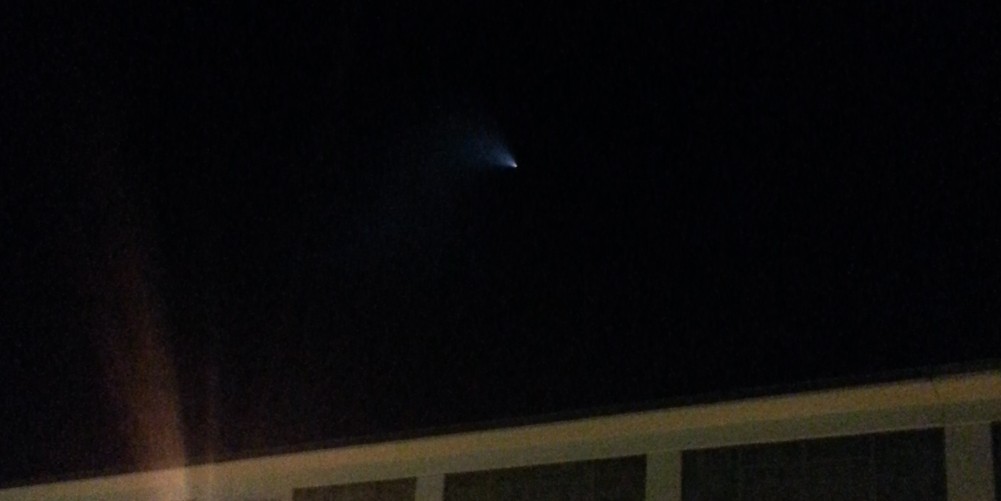 >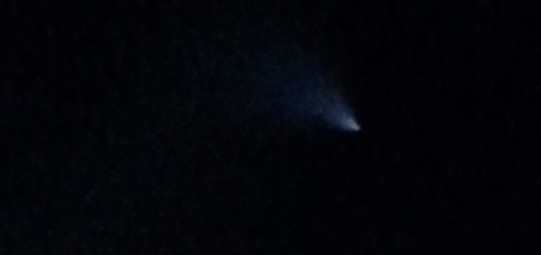 >
Did anybody see the object in the Claycord sky this morning around 6am?
One Claycordian, who was able to capture a couple of photos, says it was fast moving, and disappeared quickly….
This morning at 6am I saw this white light while facing West. Varying brightness and then fizzled out. Is it a missile? Is it a meteorite? Maybe somebody will now what it is (photo above).
Another says it looked like it was spraying something into the air….
This morning when I was leaving for work, before I got into my car I noticed that there was some type of object in the air with a type of floodlight on, and white fog/smoke was billowing out of it   – as if something was being sprayed into the air. I tried to take a photo with my iPhone but it didn't come out. This was at 5:58am – I live in Kirkwood – and the object appeared to be just over the area of Clayton Valley Shopping Center at Clayton/Kirker Pass….. could this be fogging for mosquitoes? I was a bit concerned because the object was clearly spraying some substance into the air… with the floodlight on. Then the light went off, and I couldn't see or hear the sounds from a plane or anything, it was very strange. Just wanted to run this by you to see if you know what that might have been or if anyone else has seen it?
Another person said the same thing….
I saw an object in the sky this morning and there was something coming out of it. I am used to seeing planes early in the morning with lights, but this was different. This had something coming out of it, it wasn't just the light. I could see it spraying something. Have you had any other reports?
Any other reports? Only about 30. Many Claycordians are reporting the same thing, and many are talking about how it looked like it was spraying something.
Mosquito fogging in Contra Costa County isn't done by air, it's done with a truck, and there were no plans to fog for mosquitoes in Claycord last night or anytime this morning.