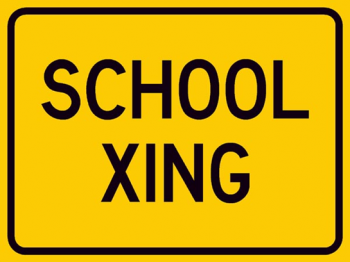 >
Some of you might have noticed that many schools around Concord are missing crossing guards this year.
Lt. Bill Roche with the Concord Police Department tells us why schools throughout the Mount Diablo Unified School District are going without this important safety feature….
Since the mid-1990's the City of Concord has been contracting crossing guard services. As of 2012, the city was supporting 10 locations across the City at a cost of $90,000.
Based on the downturn of the economy, the City recommended shifting the responsibility of crossing guards to the school district as well as school/parental volunteers (should the school district not continue the contract with the crossing guard company).
In 2012 the Council authorized the elimination of the crossing guard program over the course of two years. Five locations were eliminated at the end of the 2012/2013 school year and the remainder were eliminated at the end 2013/2014 school year.
Since that time, the Police Department has been offering a crossing guard training program for interested schools. In addition to the officer conducting on-site training at the school, the department has also provides crossing guard equipment which includes stop signs, reflective vests and whistles. The program is presented in both English and Spanish.
Staff personally reached out (and continue to reach out) to each impacted school several times over the course of the past few years to school administrators advocating the program as well as providing assistance in developing traffic flow strategies.
Schools such as Ayers, Meadow Homes, Cambridge and Ygnacio Valley Elementary have taken part in the program. Woodside Elementary has also contacted the department this school year to participate in the program.
Thanks to Lt. Roche for the information.
Claycordians, is your school without a crossing guard? If so, please reach out to your school, and have them contact the Concord Police Department in order to take advantage of their offer to help train anybody who wishes to volunteer.