Hi Pet Loving Claycordians!
So how many of you attended the volunteer orientation on the 16th? I did and it was quite literally standing room only. What a great turnout – so many people wanting to help the animals at the shelter. Whether you're a cat or a dog lover, there is something for you at the shelter. We'll keep you posted when the next one is scheduled in case you missed this one.
The shelter desperately needs help with those that directly interact with the public and the animals. Less volunteers = less adoptions. What if every visitor to the shelter was greeted by a trained volunteer with knowledge of the dogs or cats the people came to see?
They also need help staffing more mobile adoptions. These dogs and cats aren't getting the exposure they deserve within the confines of the shelter walls. We need them to get out and interacting with the public. These are just two of the ways you can help. A third way you can help doesn't require any formal volunteering application or anything. It is simply using your voice and if you have social media, the use of your voice online. SHARE SHARE SHARE the photos and stories! Tell all your friends to ADOPT A SHELTER DOG or CAT!
There are several Facebook and Twitter groups/accounts that share these shelter animals routinely. Including of course, Smart Paws. Like us online, and please help share the animals you see. You never know where that connection will be found. The shelter has very few resources to expose these animals to the masses, but together, we have the power of sheer numbers. Think about it. Start by liking: Smart Paws Facebook Page. Then SHARE!
This week, at the moment of this posting, there are almost 200 dogs at the Martinez Shelter. Too many. And too many means they will have to start to "make room" for more. It's not good. Every week there are dozens of dogs and cats entering the system, in fact, look at these intake numbers from just last week. Shameful really that as a community we let this happen. Sure some are strays that will be reunited (hopefully) but microchipping, collars/tags, spay/neuter and better care/supervision will go a long way to stopping the strays.

>
So, having said that, two of the longest doggie residents of the shelter NEED OUR HELP. They've been featured in my past articles and to date, no adoption or rescue has stepped forward for poor Khali or Hercules. Both are "seniors" but still worthy and deserving of love and a forever home. You may remember that Hercules came in with brother, Zeus, confiscated from "inhumane" conditions. Zeus found his forever home, but Hercules is waiting for his turn. Both are running out of time. Here's some more info, directly from the shelter volunteers and staff:
"KHALI ID # A768685. She may not be the "young cute" puppy that many come looking for, but we believe she is just about the BEST DOG around. Her personality is what makes her special, and that is hard to see when just walking by her kennel. Please take a minute to watch & SHARE the video, then come into the shelter to meet her in person. Her smile and love of everyone is what makes this one truly beautiful. She is the "volunteer pick" and ALL adoption fees will be waived for a good home – So Please SHARE and help this beautiful, loving girl find the home she deserves." Khali's video: MEET KHALI
"HERCULES ID # A768345 thinks it is his turn to find a forever home – Can you provide Hercules with a loving forever home? This sweet senior has enough energy for a good daily walk, but is mellow enough to be a great snuggler – Please come adopt Hercules."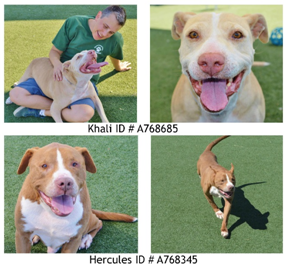 >
If you go to the Smart Paws FACEBOOK page, like us and look for this same collage, we will have the link to each of these pup's www.PetHarbor.com profile.
August shelter promotion: Free spay/neuter for all pit bull or pit bull mix. Free cats over 7 yrs old. Kittens $50.
You can visit and adopt dogs, cats and bunnies at either shelter (Martinez or Pinole). You'll find cats at the shelters and at Pet Food Express in Walnut Creek, Petsmart in Concord and Rodies in Clayton. The Martinez shelter is located at 4800 Imhoff Place. You can call them at (925) 335-8300. Shelter hours are Tuesday – Saturday 10am-5pm, Wednesday 10am-7pm and Sunday 12pm-3pm. If you are interested in a dog or cat you see online, please don't wait. If you can't go down right away, call them and let them know you are interested in a particular animal as they can add a note to the file. There are no guarantees of a happy outcome for pets at the shelter, but with your help, we can do more! We can share this information. We can adopt. We can foster. We can save lives and make a difference.