Title:  Featured Artist – George Curtis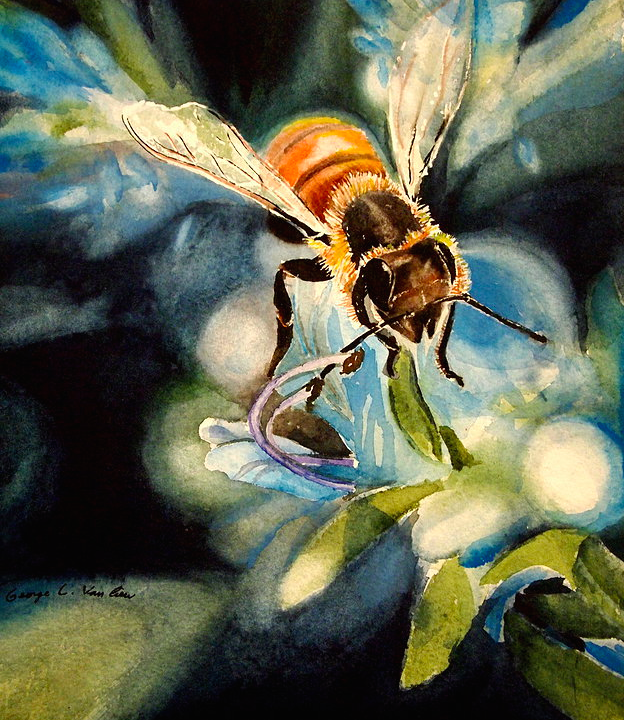 >
George Curtis of Clayton works with watercolors and also oils, creating lovely florals, landscapes and portraits. On Thursdays starting tonight at 6pm, he'll be teaching one-hour Watercolor Basics classes for adults at Diamond Terrace. Each class is on a drop-in basis and includes all supplies for just $15.
It must be a full circle moment for him to be teaching at a retirement community, since he first learned to paint at the age of nine by taking classes at a retirement home where he and his family were volunteers…a nice way to give back!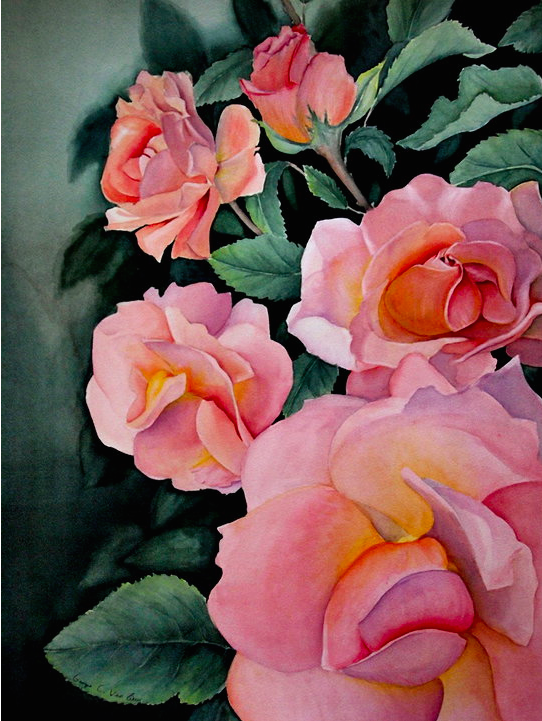 >
George shares some of his techniques and inspiration on his YouTube channel – some videos use time-lapse to show how his work progresses from beginning to end – enjoy!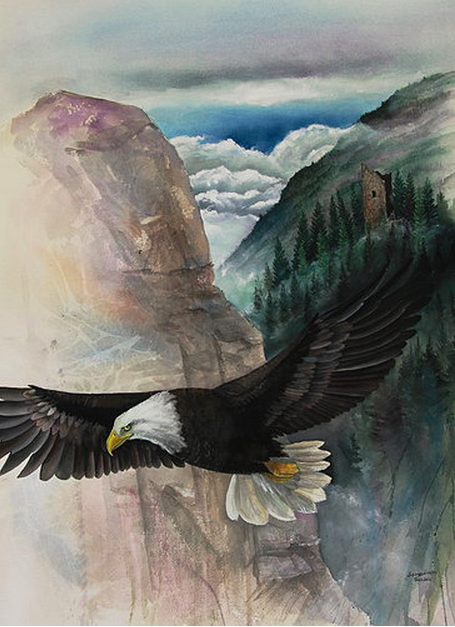 >
Photos:
1.  Sweet Intrigue – watercolor
2.  Crowd of Roses – watercolor
3.  Wings as Eagles – watercolor/gouache
EVENTS
TONIGHT – Music & Market
6:30 – 8:00pm
Zepperella – Led Zeppelin Tribute Band
Todos Santos Plaza, Concord
August 23
11:00am – 6:00pm
Festival of Latin Culture
Todos Santos Plaza, Concord
August 28
6:30pm
California Symphony – Pops in the Plaza
Todos Santos Plaza, Concord
Now through August 30
Bay Area Artists – Summer Show
Jennifer Perlmutter Gallery, Lafayette
Now through August 31
Unique Art, Unique Homes exhibit
Lafayette Art Gallery
Now through August 31
Contra Costa Landscapes
Asante Network – Art & Craft from East Africa
Art Cottage, Concord
September 2
6:00 – 7:30pm
Art Discussion Group
Lafayette Library
Now through September 6
Association of Clay & Glass Artists
Lafayette Art Gallery
September 6-7
Pittsburg Seafood & Music Festival
Pittsburg Marina
September 7
1:15 – 4:45pm
Concord Knitting & Crochet Group
Concord Library
September 9
1:00 – 3:00pm
Concord Art Association meeting
Pat Sanchez – Gourd artist
Concord Library
September 12-13
Black Diamond Follies
California Theater, Pittsburg
September 13
5:00 – 7:00pm
Heart of Modernism – Artist Reception
Jennifer Perlmutter Gallery, Lafayette
September 20
12:00 – 4:00pm
Craft Your Stash – Book Release Party
Concord Library
September 20-21
Lafayette Art & Wine Festival
Downtown Lafayette
Now through September 26
Featured artists: Michele Eakin, Jennifer Frost and more
Umpqua Bank, Antioch
Visit the Arts & Culture Commission's new events calendar for more!
Creative Space is a weekly column written by Lisa Fulmer that features local art events and performances, information about creative movers and makers, and fun how-to craft projects for you and your family. Creative Space will be on Claycord.com every Thursday at 2pm.
As an avid creative junkie living in Concord, Lisa wants to make it easier for our readers to find ways to embrace creativity and celebrate the local people who are making it happen. In addition to her work as a marketing consultant and a project designer for the craft industry, Lisa also offers a craft party planning service for birthdays, family reunions and other special events.