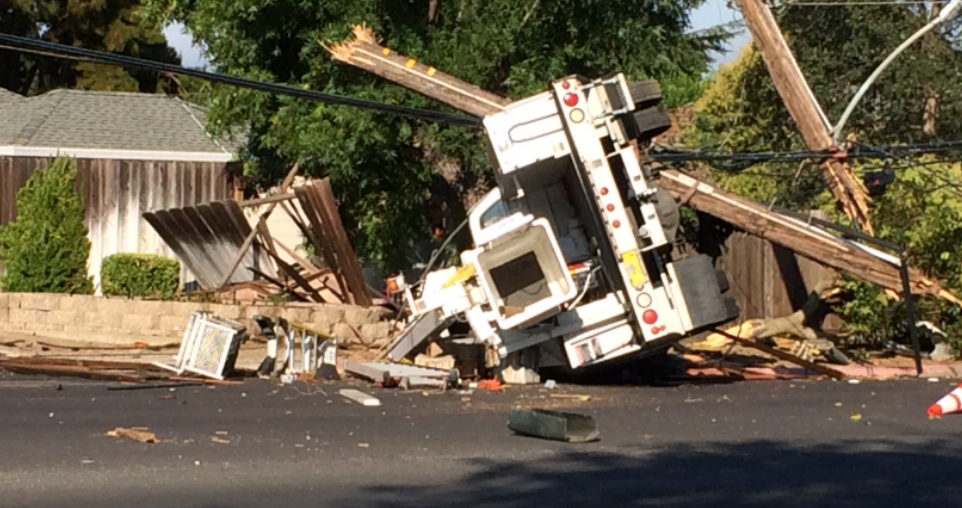 >
Part of a main thoroughfare in Concord remains closed this afternoon after a truck crashed into a power pole earlier today, authorities said.
The crash happened this morning when the driver of a truck crashed into a power pole on Concord Boulevard near Hames Drive, according to Concord police Lt. Ivan Menchaca.
Several Claycordians originally reported the truck belonged to Astound, however, Menchaca said the truck belonged to PG&E, but a spokeswoman for the utility said later this morning that the truck belonged to a third-party company.
The force of the crash caused the truck to turn over on its side and knocked down several power wires, police and fire officials said.
The driver was uninjured and no other vehicles were involved.
The crash has shut down Concord Boulevard from Ayers Road to Trailcreek Court. Detours have been set up in the area. The road is expected to be closed until later this evening.
About 1,750 PG&E customers lost power after the crash, but service was restored to all but 33 customers as of 11:45 a.m., according to PG&E spokeswoman Tamar Sarkissian.
PG&E crews were assessing the damage and making repairs and are expected to remain at the scene until late this evening, Sarkissian said.
The cause of the crash has not been determined.
Thanks to Heather Smith for the picture!
RELATED STORIES: PHOTOS: Utility Truck Crashes into Power Pole, Overturns on Concord Blvd. Near Ayers in Concord