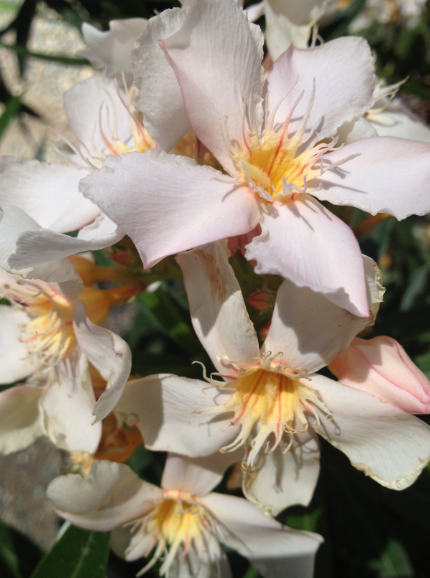 >
Trees, plants and shrubs will go in and out of style in the landscape just like fashion and food trends.
There was once a time when certain plants ruled the nursery, and then suddenly they fell out of favor disappearing from garden center shelves.
One plant family that was huge 20-30 years ago is steadily making a comeback in the nursery world. Much to my surprise, the Oleander started showing up on plant availability lists last year, and now is being spotted on almost every foundation growers availability this year. Landscapes have a demand for drought tolerant, sun loving, deer and gopher resistant, evergreen shrubs that have long periods of bloom. The Oleander shrubs fits the bill perfectly.
Let's start by saying that every part of an Oleander is poisonous to humans and animals. Ingestion can be fatal. Don't put branches, leaves or flowers in your mouth. Don't burn Oleander debris. Don't use Oleander debris in your compost.
Now that we have that out of the way, let's talk about all the positive features of this family.
Oleander is found in the nursery under its botanical name, Nerium. Growers have begun labeling the Oleander with its botanical name rather than its common name for marketing reasons, considering the stigma that Oleander has had.
Oleander can be a standard or dwarf shrub. Sometimes they are trained as trees. You can expect 8-10 feet of height and width from a mature standard Oleander, making it a desirable installation for a privacy screen, or fence cover. Dwarf shrubs are nice when used as an informal hedge, or focal installation. As a dwarf Oleander matures it can reach 4-6 feet tall and wide.
In the late days of April, Oleander begins to flower and will continuously bloom until November. Cherry Ripe is a standard selection of Oleander with a desirable cherry-pink blossom. Since it's a standard, Cherry Ripe can grow to 8 feet tall. Petite Pink is a dwarf selection that has a dark pink flower. Petite Pink will row anywhere from 4-6 feet tall. Petite is a yellowish-cream selection. Once you start looking, you'll find whites, salmons, and light pink Oleander as well.
Mature Oleander needs no summer water. It can however tolerate irrigation when incorporated with in a traditional landscape. Extended periods of frost can nip the branches of dwarf selections. Don't worry if this happens to yours, recovery is slow, but as spring warms, you'll see signs of growth.
Happy Gardening.
Nicole Hackett is the Garden Girl at R&M Pool, Patio and Gardens, located at 6780 Marsh Creek Road in Clayton, 925-672-0207.
Nicole writes for the Clayton Pioneer Newspaper, and Claycord.com. She is also the Clayton Valley Garden Club 2012 President.

>