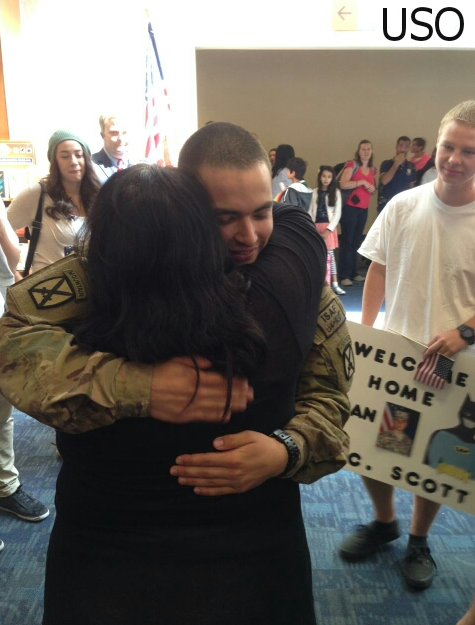 >
A 19-year-old soldier is back home in Martinez today after returning from a tour in Afghanistan.
U.S. Army Spc. Jeremy Scott, who served his first deployment in Afghanistan over the past nine months, emerged from a plane at San Francisco International Airport to an emotional welcome from his closest family and friends, and a group of United Service Organization, or USO, members.
His mom, the first person Scott saw when he got off the plane, ran up to give him a hug.
"There were some tears — definitely tears of joy," he said. "Coming home to see family and friends and people I didn't even know supporting me was amazing," said Scott.
A convoy of about seven motorcyclists from the military support organization Warriors Watch Riders led the car from the airport to Martinez, their American flags flapping in the wind.
Scott said he's looking forward to catching up with the friends and family members he hasn't seen for over a year.
He joined the army at 17 years old and headed to Fort Drum in New York for training about a month after graduating from Alhambra High School in Martinez, he said.
Scott was deployed to Afghanistan in October 2013. During his nine-month deployment, the soldier provided security at his army base, where he and his fellow soldiers regularly underwent mortar and rocket attacks, he said.
During his deployment he also lost a friend who was killed by a sniper while serving at a different Afghan base, Scott said.
He said has received several honors for his service in Afghanistan including an Afghanistan campaign medal, an overseas medal, NATO service medal and the more prestigious Army Commendation Medal.
Bryan Carmody, a spokesman for USO Bay Area and part of the organization's Families of the Fallen Response Team, said seeing the young soldier's homecoming was the type of happy ending that some military families don't get.
"In the Families of the Fallen team, I'm usually there when things don't go well, so to see something like this was amazing," Carmody said.