A woman was arrested this morning after allegedly stealing a taxicab and driving the wrong way on state Highway 4 in Martinez, causing two crashes and shutting down the roadway, authorities said.
A taxi driver called police around 8:15 a.m. to report that someone had just stolen his cab from the 700 block of Escobar Street, according to Martinez police.
The California Highway Patrol got a report a short time later of a taxi driving the wrong way on Highway 4 near Morello Avenue, CHP Officer John Fransen said.
The cab headed east in the highway's westbound lanes, causing a Honda Civic to swerve out of the way and hit a roadway median, Fransen said.
Moments later, the driver of an SUV attempted to swerve out of the taxi's path but struck a gray van, causing the SUV to overturn.
Fransen said he did not know the extent of possible injuries suffered in the crash.
The taxi came to a stop a short distance away and Martinez police arriving on the scene apprehended the driver, identified as 40-year-old Jaimee Ellam, police said.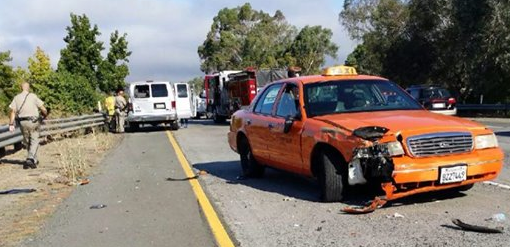 >
She was taken to a hospital to be evaluated and placed under arrest.
Drugs are believed to be a factor in the incident but an investigation into the collisions is ongoing, Fransen said.
The CHP closed two lanes of westbound Highway 4 following the crashes but the roadway has since reopened.
RELATED STORY: VIDEO: Wrong-Way Taxi Driver Causes Crash on Hwy. 4 in Martinez
photo credit: CHP
video credit: Moiz Qureshi  @moiz41510