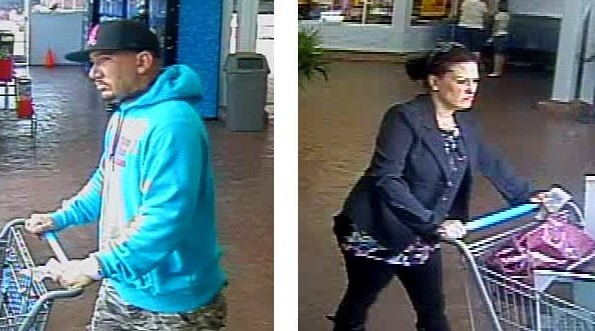 >
The Contra Costa County Office of the Sheriff is asking for the public's help to identify the two people pictured above, who they say are "persons of interest" in a residential burglary case in Walnut Creek.
The following information is from the Office of the Sheriff:
Help Us Identify Persons of Interest in Burglary Case
A residential burglary was reported to the Contra Costa County Office of the Sheriff on August 3, 2014. The burglary occurred on Sutherland Drive in unincorporated Walnut Creek.
The victims reported that some jewelry and a wallet were missing.
Detectives investigating the case discovered that the day the burglary was reported, a credit card stolen in the burglary was apparently used twice by the individuals in the photo at a Walmart store located at 5821 Antelope Road in Sacramento, Ca.
The two individuals are persons of interest in this case. The Office of the Sheriff is kindly requesting your assistance in identifying these two.
Anyone with any information is asked to call Detectives at (925) 313-2660.
For any tips, please email: tips@so.cccounty.us or call (866) 846-3592 to leave an anonymous voice message.