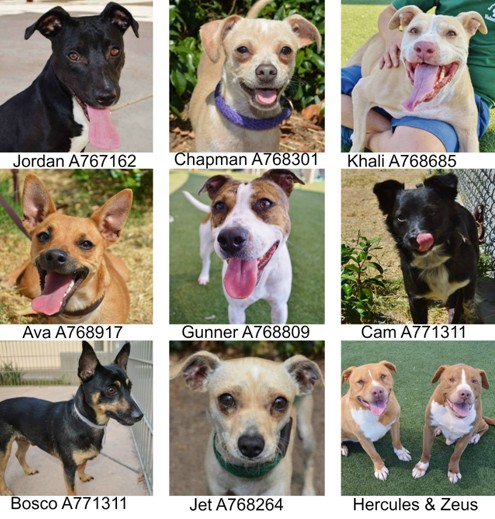 >
Hi Pet Loving Claycordians!
Thank you for all the great feedback on my last article. It was heartwarming to know that so many of you share the same feelings as I do, that a pet is forever. I focused on the seniors at the shelter and while 4 of the pups I featured found homes or were rescued, 3 are still left waiting; Khali, Hercules and Zeus. I've included them again in this week's collage.
Do you love animals? Want to help? Make a difference? Well, this is YOUR weekend. On Saturday, August 16th from 11am – 1pm at Contra Costa Animal Services 4800 Imhoff Way in Martinez, there is a volunteer orientation. The shelter needs volunteers for many different duties. From dog walking and kitty/bunny socializing to the lost and found desk, mobile adoptions, media/marketing and more! Come see what it's all about and make a difference in the lives of the homeless pets in our community.
For more information visit the shelter site: VOLUNTEER at the shelter. You must be 18 years or older and be willing to devote some time every week.
I've created a collage of just a few of the dozens of dogs at the shelter who need homes. You can also find purebred dogs at the shelter! Just about every single day. Right now there are Shepherds, Poodles, a Rottweiler, Shar Pei, Cocker Spaniel, Jack Russell, Husky and more. There are dogs of every variety at the shelter, just go look! Some of the purebreds go fast though, so hurry.
If you go to the Smart Paws FACEBOOK page, like us and look for this same collage, we will have the link to each of these pup's www.PetHarbor.com profile. All of the dogs above are located at the Martinez location except Jordan. Jordan was adopted not long ago and has been returned, you can find him in PINOLE. You can also search for all animals available at the local shelters. If you are currently looking for a new furry friend, we frequently post available animals from shelters and from some local rescues.
The shelter has extended their promotion for August: FREE spay/neuter for all adopted pit bulls and pit bull mixes and all KITTENS are just $50 (which includes all vaccines up to date, spay/neuter and microchip). All cats over 7 years old are FREE!
You can visit and adopt dogs, cats and bunnies at either shelter (Martinez or Pinole). You'll find cats at the shelters and at Pet Food Express in Walnut Creek, Petsmart in Concord and Rodies in Clayton.
The Martinez shelter is located at 4800 Imhoff Place. You can call them at (925) 335-8300. Shelter hours are Tuesday – Saturday 10am-5pm, Wednesday 10am-7pm and Sunday 12pm-3pm. If you are interested in a dog or cat you see online, please don't wait. If you can't go down right away, call them and let them know you are interested in a particular animal as they can add a note to the file. There are no guarantees of a happy outcome for pets at the shelter, but with your help, we can do more!
We can share this information. We can adopt. We can foster. We can save lives and make a difference.