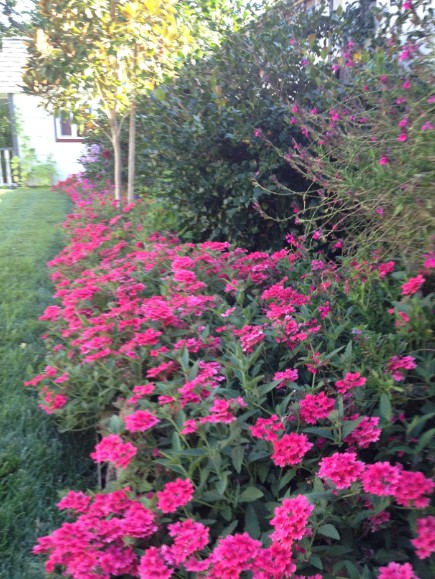 >
Verbena plants are thrilling additions to garden beds, borders, hanging baskets and containers. They are absolutely flowertastic, blooming spring through fall in many colors. Although they are short lived, the impact they create is worth adding or replanting every couple of years or so. Verbena plants are sun loving, water-wise and easy to care for. They are relatively pest free and disease free, making them successful installs for busy garden lovers.
The only choice you'll have to make is which variety the plant where? Verbena has growth habits, which distinguishes one from the other. Some Verbena grows off a single rootball, and others root as they grow. The selections that mature from a single rootball survive Claycord's winters with more success. Look for selections called Homestead and Superbena as they are among the hardiest to our winters and our water limitations.
Homestead Verbena is the first verbena that I became familiar with. It is nursery staple. Broad leaves with a slight pile give Homestead Verbena the tools it needs to be water-wise. The pile protects the leaf from evaporation of its moisture. Homestead Verbena has dark purple globes of tiny, four lobed flowers. It is a sprawling groundcover that grows outward from its rootball. Healthy Homestead Verbena should only be allowed to spread around 36". Any further, the center of the plant seems to summer. Homestead Verbena can reach heights between 6-12", depending on the amount of sprawl that you let the groundcover grow. If you are constantly cutting back Homestead Verbena to keep it in bounds, your plants will have no choice but grow taller.
Several years ago, Homestead Verbena was used to create a collection of verbenas called Superbena. These plants hit the nurseries courtesy of Proven Winners. They are very Claycord tough, thriving in all our weather extremes. Superbenas are very attractive garden bed, border and container installatons since they are available in more colors other than purple. Superbena can be enjoyed as Burgundy, Pink Shades, Dark Blue, Ice Blue, Coral Red, Royal Peachy Keen and Royale Ice Cherry. Although some individual colors are hard to find, the fact that they exist makes Superbena a fabluous, fun installation.
All productive plants like Verbena will need fertilizing to keep them blooming. Alternating the use of two different products will give growers desirable results. When the earth begins to warm in spring, fertilize your Verbena with a water-soluble 15-6-3. Notice this formula has higher nitrogen to encourage speedy growth. Use every 3-4 weeks from March through April. Beginning in May, change formulas to encourage bud and bloom. Use water-soluble fertilizer 3-10-10. If you don't have these exact numbers, try to get close. Again, fertilize every 3-4 weeks for a couple of months. Then change back to the 15-6-3 feeding then back to the bud and bloom fertilizers for another couple of months. You won't believe the results you achieve feeding both the plant and the flowers.
Not all Verbena plants are desirable. Some can be very invasive. Verbena bonariensis and Verbena ridgeta along with any of their offspring should be avoided.
Happy Gardening.
Nicole Hackett is the Garden Girl at R&M Pool, Patio and Gardens, located at 6780 Marsh Creek Road in Clayton, 925-672-0207.
Nicole writes for the Clayton Pioneer Newspaper, and Claycord.com. She is also the Clayton Valley Garden Club 2012 President.

>