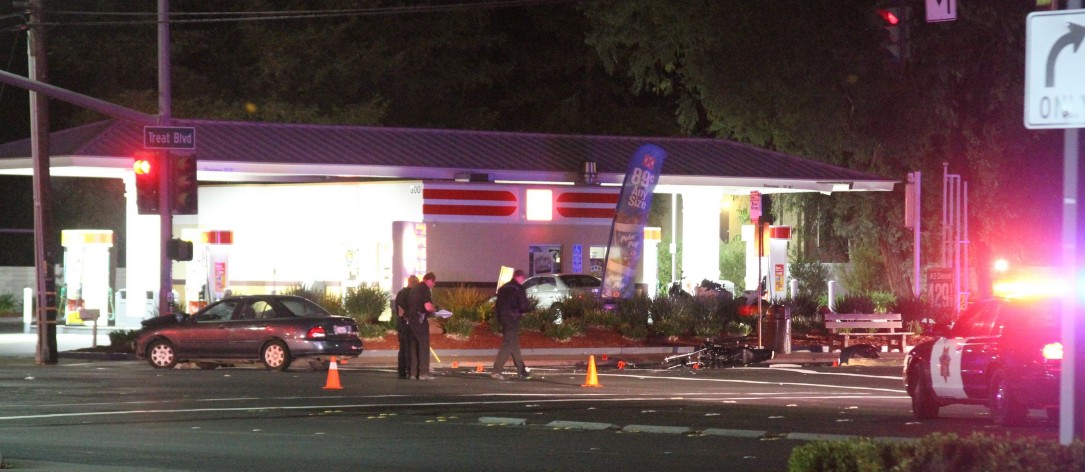 >
As we previously reported, a motorcyclist died after a collision on Treat Blvd. at Oak Grove Rd. late Thursday night.
Concord Police have not released the victim's identity at this time, but they are saying who they believed might have caused the fatal crash.
Although the exact cause of the collision is still under investigation, a preliminary investigation indicates the driver of the Harley Davidson motorcycle, a 29-year-old male resident of Concord, was traveling northbound on Oak Grove Rd. in the #2 lane of traffic at a high rate of speed and may have entered the intersection against a red light, while the driver of the Nissan Sentra, a 58-year-old female resident of Concord, was making a left turn from south bound Oak Grove Rd. onto east bound Treat Blvd., police said.
The driver of the motorcycle was pronounced deceased at the scene by AMR/CFD personnel. The name of the deceased is being withheld due to the ongoing investigation and pending notification of the family.
Anyone with additional information to offer regarding the collision, please contact Traffic Investigator Ken Carlson at (925) 603-5931.
RELATED STORY: Fatal Motorcycle Collision on Treat Blvd. at Oak Grove Rd. in Concord.
photo credit: "ratstalker"