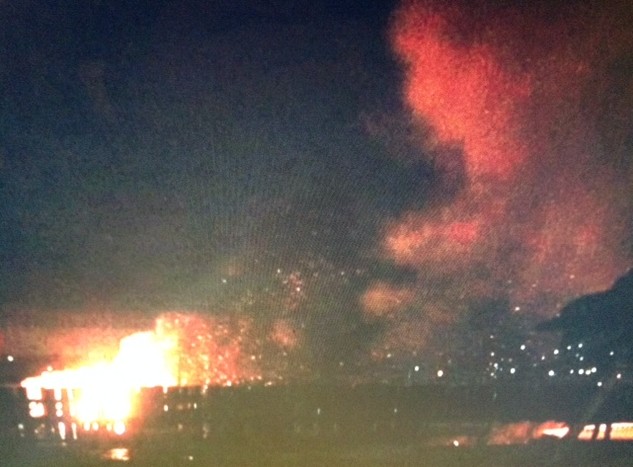 >
A fire that burned the end of a fishing pier at the Martinez Marina late Sunday night was likely caused by a human, a fire marshal said today.
"I am confident that it was human-caused, there was no other explanation," Contra Costa County Fire Protection District Marshal Robert Marshall said.
Marshall said that investigators are still determining whether the fire that broke out at 10:52 p.m. was malicious or had an accidental cause, like discarded smoking materials.
One possibility is that the fire started in rotted wood that formed bowl shapes on the top of some of the pier's posts and were sometimes used as ashtrays, Marshall said.
With the lack of rain lately, a lot of the wood along the pier was rotted and dry and very easy to burn, he said.
It took firefighters 90 minutes to control the blaze, which completely destroyed 50 feet at the end of the pier and damaged more. It
burned much of the left side of the T-shaped pier, Marshall said.
Firefighters were there for much longer than that and continued to put out hot spots this morning.
They cleared the scene at about 2 a.m. today but left hose lines in place and have been stopping back today to check for smoldering, he said.
A state weather station is at the end of the burned pier and while the building sustained some exterior damage, the fire did not spread inside, Marshall said.
However, the destroyed pier has prevented people from accessing the building and they will have to find some other way to get to the equipment, Marshall said.
Homeless residents sometimes sleep on the pier and firefighters were concerned that some may have been there when the fire broke out.
Crews checked the area extensively and did not find anyone, Marshall said. No one appears to have been injured in the fire.
RELATED STORY: PIC: Pier on Fire at the Martinez Marina
photo credit: Craig Cannon – for use only on Claycord.com