>
Traffic Jammin' with Janis Mara – Every Monday at 2pm on Claycord.com.
TRAFFIC JAMMER: Greetings, all! This Claycord.com column is for everyone who negotiates the highways and public transit of the Bay Area. It runs every Monday at 2pm and answers your commuting and transportation questions.
Email your questions to trafficjammin@claycord.com.
TRAFFIC JAMMER: Last week, at the urging of a frequent poster, the Jammer asked everyone to share favorite automobile-focused movies. What a cornucopia of awesome suggestions! Can't wait to watch every one of them – I have not seen any of them, except "Vanishing Point," which Cowellian also named as a favorite.
The movie that got the most votes was "Bullit," with three votes from Rebel, That's All Folks! and Tom, followed by "If I Had A Million," a 1932 W.C. Fields gem suggested by the Captain and seconded by Ancient Mariner. ClayDen suggested "Grand Prix," as did SeeK;  "Blues Brothers" got the nod from Robert Alexander and Just a Concordian, and the latter also endorsed "Ronin," as did Pierre. "American Graffiti" got the nod from Tom and Michelle (original). Most hilariously of all, "Christine" got two votes, from Silva and nytemuvr. This is not a movie that glorifies the automobile!
COMMUTER: I was driving in San Rafael the other day and as I approached the onramp to northbound Highway 101 coming from Sir Francis Drake, I noticed a line of white triangles stretching across the road, painted on the asphalt. I had no earthly idea what to do so I proceeded as I usually would. Is this some weird Marin County thing? Actually, I believe I have a dim recollection of seeing similar markings in the East Bay, but don't know what they mean.
–Puzzled Claycordian
TRAFFIC JAMMER: Now, now, PC, let us not speak ill of our neighbors to the west. (Actually, aren't they often referred to as "PC," now that I think of it?) Anyway, the markings you refer to are a "yield line," indicating the point where drivers must yield.
You were on a feeder street leading to an onramp that is accessed from three different roadways. To make sure cars on that feeder street don't protrude too far onto the onramp when waiting to drive onto the onramp, presenting a danger to the other drivers, the yield line was added. These markings appear in other states as well, and are informally called "shark's teeth."
Here's a photo courtesy of Commute Orlando, http://commuteorlando.com/wordpress/2010/04/22/sharks-teeth/.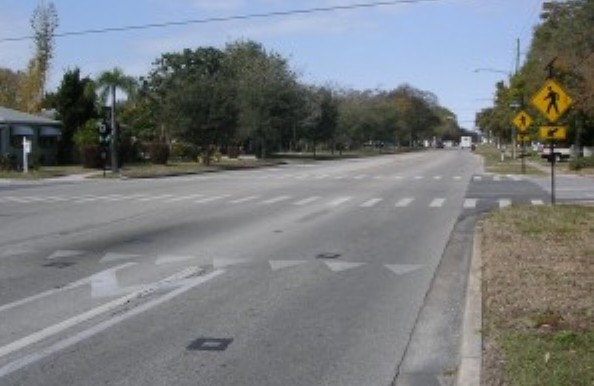 >
COMMUTER: We're about to take off on vacation and wondered if there's a way to find out which states prohibit talking on a hand-held cell phone, as California does?
–Law-Abiding traveler
TRAFFIC JAMMER: Yes, LAT, cruise on over to the Governors Highway Safety Association website, www.ghsa.org/html/stateinfo/laws/cellphone_laws.html. Good on you for wanting to ensure that you will obey the laws of whichever states you visit. But hey, you're on vacation, probably with your family, yes? Why don't you stash the cell phone in the trunk, or give it to the person riding shotgun?
COMMUTER:  Here is one of my favorite California road trips.  The drive takes you over the two highest mountain passes in California and some spectacular scenery.
We met in Manteca, then drove through Sonora to Pinecrest to enjoy the view of Pinecrest Lake. Then we drove over Sonora Pass (9,623 feet) on CA 108. The drive is one of the best sports car/sports sedan roads anywhere, especially the part downhill from the summit.  Next, it's south on U.S. 395 for gas in Lee Vining ($4.99/gal for 87 octane). 
We then headed to Tioga Road/CA 120 and the climb to Tioga Pass, passing beautiful lakes. You enter Yosemite at Tioga Pass, the highest pass in California at 9,943 feet. You continue through Yosemite on CA 120, through Groveland, then back onto CA 108 and home. 
–ClayDen 
TRAFFIC JAMMER:  What an awesome trip! If you have made a totally fun local road trip and would care to share it, do send it in and the Jammer will feature it!  Also, don't forget, the Jammer always loves to run photos of you with your beloved classic car, so don't hesitate to send those along to trafficjammin@claycord.com as well.
TRAFFIC JAMMER: That's it for this week – see you next Monday. Be sure to cruise by Claycord.com at 2pm for more traffic intelligence. Remember, whether you drive, walk, bike or hop Amtrak, BART or AC Transit, Traffic Jammer Janis Mara is here to answer your questions.
Send your questions to trafficjammin@claycord.com