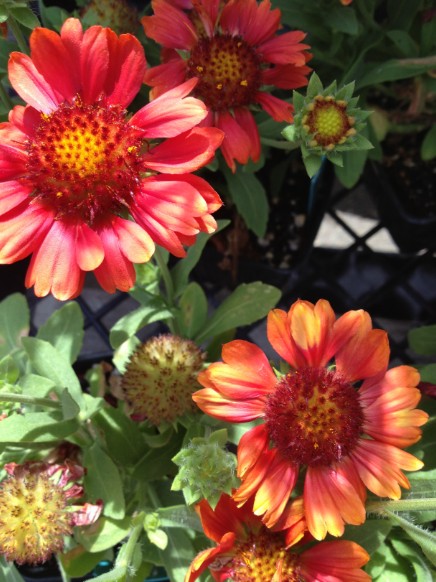 >
After a week of scorching hot days, it is always telling to see what plants are able to hold up to the extreme weather conditions. Often, plants whose tags boast 'sun and heat tolerance' can wilt when Claycord heats up for succession of days. They wilt, not from lack of watering, but just the heat of the air. New installations will show the stress more than established plantings.
Garden lovers go to great lengths to protect their plantings. This week at the nursery we sold anti-transpirants than usual. Anti-transpirants are sprayed on plant and tree foliage to protect and help reduce moisture loss during periods of frost and heat. Wilt Stop and Cloud Cover are both popular anti-transpirants type products. Either has been proven useful when sprayed on Japanese maple trees, hydrangeas, hostas, gardenias and lots of other plants. Some garden lovers provide temporary shade for their installations putting up shade clothe, frost covers and umbrellas.
Some plants just hold up better than others. Gaillardia is one family of plants that have some attributes for thriving in the full, hot sun. Gaillardia has a smallish leave that has a slight pile, or hair-like texture. This pile protects the body of the leaf from evaporation caused by heat. The flowers of Gaillardia are hot colors, which seem to absorb the sun better then soft pastel colors. Gaillardia is available in bright reds, oranges, and yellows. They are extremely hardy, long living and a fantastic garden or landscape installation.
Yarrow, Sage, Lavender and Sedum held up very well. The temperatures didn't affect their leaves and flowers at all. It got so warm that the petals on the roses burned along the edges. When this happens, just dead head the burnt flowers away. New growth will reemerge soon. Burnt leaves on Japanese maples should be stripped to make room for new growth.
It is important to resist the urge to mist your plant's foliage when temperatures soar. Wet leaves are susceptible to burning. Also, don't over-water. Clay soil holds moisture for a long time.
Happy Gardening!
Nicole Hackett is the Garden Girl at R&M Pool, Patio and Gardens, located at 6780 Marsh Creek Road in Clayton, 925-672-0207.
Nicole writes for the Clayton Pioneer Newspaper, and Claycord.com. She is also the Clayton Valley Garden Club 2012 President.

>