Hi Pet Loving Claycordians!
The shelter is still overflowing. That is the bad news. What's even worse is that many of those dogs are surrendered, or found as strays. I have to ask, why so many strays?? Why aren't people looking for their lost dogs?
My topic today is a big sore spot with me and that is SENIOR dogs. Seniors, elderly, older, whatever you want to call them. People who surrender their animals and pay a fee are able to leave behind some paperwork, "surrender paperwork" as I'll call it today. If you have to surrender, at the very least share what you know. This surrender paperwork allows the owner of that animal to describe their pet; its habits, likes, dislikes and personality.
They can share if the dog gets along with other pets, kids, people or if it's housetrained, obedience trained, etc. But guess what? Your dog still has to pass shelter temperament tests! Some older dogs are so afraid at the shelter that they shut down. If they don't pass their test, they are NEVER put up for general adoption. Yah, you guess what happens next there if a nice rescue doesn't come in and help.
The shelter has implemented a "timid dog program," but with the shelter already being overcrowded, they can only help so many. Would your dog pass a temperament test in an unfamiliar, scary, noisy shelter filled with strangers and strange dogs?
But what gets me most is why these OLDER animals are in the shelter in the first place. There could probably be a contest of the worst reasons to surrender a dog, but accidents on the carpet, lack of training, got a younger dog, too much work and going on vacation must be some the worst I've seen.
People seem to have more warm fuzzies of a piece of furniture they'd owned for 12 years, but their older dog starts having issues, or a new younger puppy doesn't like it, and who goes? The old dog. It is heartbreaking to see how confused and scared these dogs are in the shelter. And for what? I'm not talking about tragedy, owners dying or some other catastrophic event. I'm talking about the person/people who can literally surrender their dog as it shivers in terror as their owner walks away and a stranger leads them to a noisy, strange, wire kennel, or the people too cheap to even pay a surrender fee and proclaim they just "found" the dog with no history and no notes.
Obviously I feel a dog is a lifelong commitment and I sure wish everyone felt that way. If you hit a temporary hard spot, reach out for help – it's out there. Personally, I adopted a 12 year old pup from the Martinez shelter. Her paperwork stated that they had new carpet and she had accidents. Unbelievable.
So in an effort to help the senior dogs (5+ yrs old) in the shelter RIGHT NOW and up for general adoption I thought I'd offer this food for thought and this collage of available dogs and the information for each below.  Search PetHarbor for their ID number or just scroll through because if not one of these, there are DOZENS of others, of all ages, who need your help.
Large Photo:
Gabby 5 yrs old (A768495)
Clockwise starting top right smaller photos:
Harper 5 yrs old (A768294), Carmella 6 yrs old (A588226), Khali 8 yrs old (A768685), Hercules (A768345) and Zeus (A768346) both 10 yrs old and finally Patty 5 yrs old (A767491).
Each of these dogs have a story. A couple we don't know, some we do. One was left tied at the shelter overnight. Two were surrendered after officers approached owner about a report of them living in "inhumane" conditions. One was surrendered because she was "too much work."
They all have a story and through it all they've passed their temperament tests and have captured the hearts of volunteers and staff. They have all lived "somewhere" and are now at the shelter in hopes of finding a better life and second chance. Check our Facebook page for more.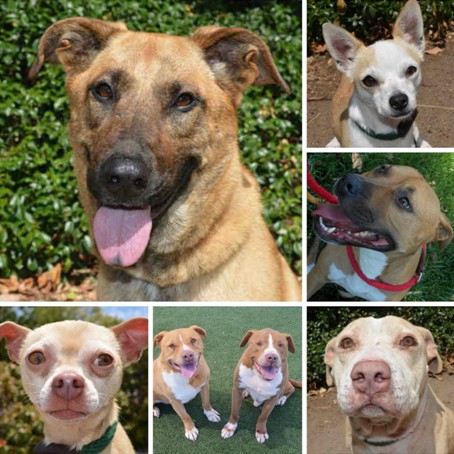 >
If you go to the Smart Paws FACEBOOK page, like us and look for this same collage, we will have the link to each of these pup's www.PetHarbor.com profile. You can also search for all animals available at the local shelters. If you are currently looking for a new furry friend, we frequently post available animals from shelters and from some local rescues.
The shelter has extended their promotion for August: FREE spay/neuter for all adopted pit bulls and pit bull mixes
You can adopt dogs at either shelter (Martinez or Pinole). You'll find cats at the shelters and at Pet Food Express in Walnut Creek, Petsmart in Concord and Rodies in Clayton. The Martinez shelter is located at 4800 Imhoff Place. You can call them at (925) 335-8300. Shelter hours are Tuesday – Saturday 10am-5pm, Wednesday 10am-7pm and Sunday 12pm-3pm. If you are interested in a dog or cat you see online, please don't wait. If you can't go down right away, call them and let them know you are interested in a particular dog as they can add a note to the file. There are no guarantees of a happy outcome for pets at the shelter, but with your help, we can do more! We can share this information. We can adopt. We can foster. We can save lives and make a difference.